FLORENCE, S.C. — The new-look offense for the Francis Marion University men's basketball team certainly had the feel of the old one in Friday's season opener at the Smith University Center.
Unfortunately for the Patriots, that feeling only lasted for a half.
After hitting 56% from the floor and 45% from three-point range in the opening stanza, FMU's hot shooting went cold. That resulted in Newberry rallying from 10 points down at the break for an 85-71 victory in the opening game of the Peach Belt Conference/South Atlantic Conference Challenge.
FMU (0-1) returns to action at 4 p.m. Saturday when it faces Catawba (0-1), who lost 95-90 in overtime to UNC Pembroke (1-0) on Friday. Newberry (1-0) will face the Braves at 6 p.m. on Saturday in the final game of the PBC/SAC Challenge.
"It was a tale of two halves," Patriots coach Gary Edwards said succinctly. "We played pretty well in the first half; we hit shots in the first half and in the second half we did not hit shots and we did not execute the way we wanted to. If we play like we did the first half, we might have a chance to be competitive this year. If we play as we did in the second half, we do not have a chance to be competitive.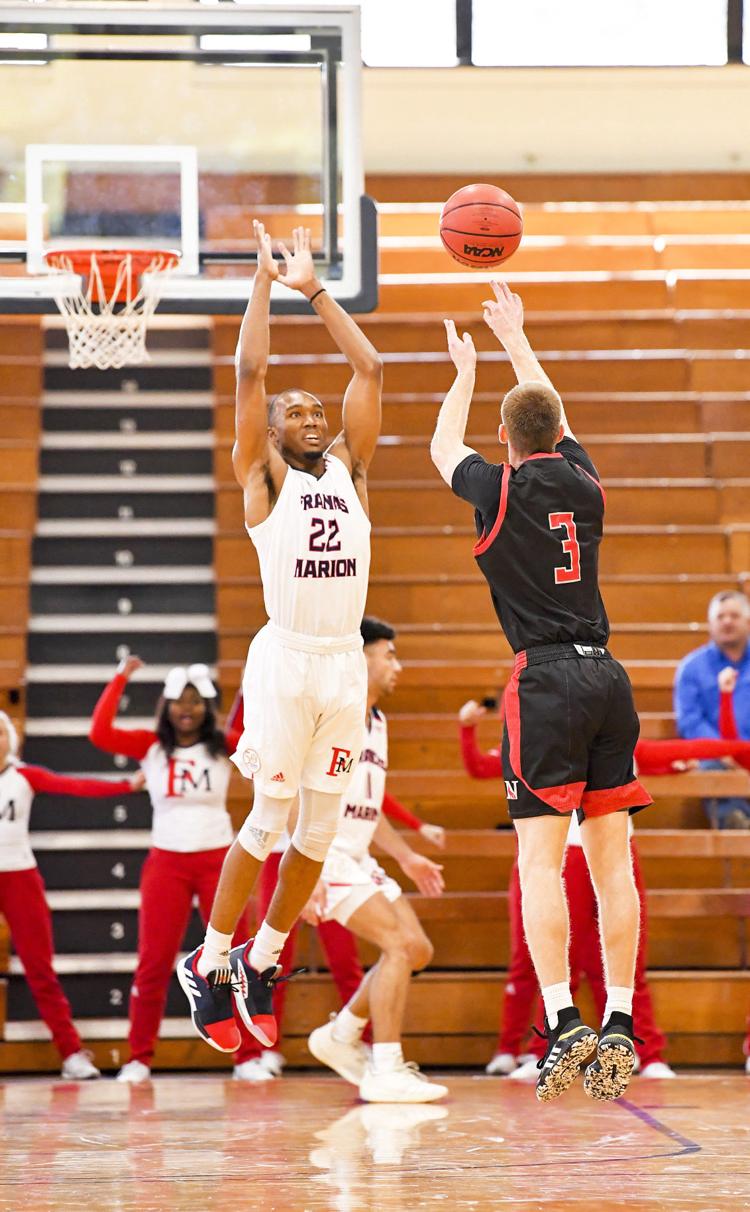 The Patriots hit nine three-pointers in the opening 20 minutes, but missed all nine shots from beyond the arc in the second half, finishing 9 for 29 (31%). They were 20 of 36 from the floor to open the game, but were just 6 for 25 (24%) to close out the contest.
"We shot the ball really well in the first half, and I thought we could have had more of a working margin in that first half if we had played a little bit better defense," Edwards said. "They're a tough team to guard. They go a lot of 1-on-1s. Forty-one points — I felt like we could have held them to 35 or so and then had a little bit more of a working margin.
"But then we just got off to a horrible start in the second half."
FMU led by as many as 15 before the break, but the Wolves pulled to within 10 at the buzzer. They quickly cut the deficit down to just one, however, as they started the second half on a 9-0 run.
Newberry retook the lead at the 13:18 mark, and used a 14-4 run to close out the game. The Wolves outscored the Patriots 44-20 over the final 20 minutes and held a significant edge in points in the paint (42-28) and in rebounding (45-25).
"If we didn't have Winston (Hill), golly think about how bad it would be," Edwards said of his sophomore forward. "There's got to be some other guys who are willing to step up and rebound the ball and be a little tougher around the basket. I'm not 100% sure who that's going to be, but we've got to identify some people because they killed us inside."
One potential candidate is newcomer Keith Matthews, who tied with returning junior forward Kendall Wall for a team-high seven rebounds.
Hill led the way for the Patriots offensively with 22 points followed closely by senior point guard Jaquez Smith with 21. Smith had 17 in the first half, including a trio of threes.
Matthews added nine points for FMU. Senior Douglas Dwight and sophomore Alex Cox chimed in with six each.
"The freshmen aren't ready to play yet, but we might have to play them because we were just so tired in that second half," Edwards said. "I've got to do a better job of subbing; I've got to do a better job of preparing the guys and taking advantages of mismatches out there.
"So everybody's got to do a better job and we've just got to keep trying to get a little bit better."
Meanwhile the Wolves got balanced scoring across the board. Angelo Sales Jr. led Newberry with 19, followed by Luke Gibson (17), T.J. Brown (16), Marshall Lange (15) and Quandaveon McCollum (13).