FLORENCE, S.C. -- It was sunny and 82 degrees Friday, perfect for a pickup basketball game at McLeod Park.
Want to watch when one comes together? Better hurry, because one picnic table is all there is for a grandstand.
Time will tell how revered this playing surface will be.
Why? Because it sure is revered by Zion Williamson, the projected No. 1 pick in Thursday's NBA Draft.
From the time he was a kid, Williamson learned how to compete at a high level – so high that he even wanted to compete against players much bigger and older than him.
So, with whatever friends or youth teammates he could find, off to McLeod Park they went.
There, Williamson became a man among men.
And eventually, the brightest among stars.
While becoming a three-time prep state champion and McDonald's All-American, and then the consensus national college player of the year at Duke, Williamson – at 6-foot-7, 285 pounds – grew into more than just an elite player.
Just look at his dunks on YouTube or ESPN's past Top 10 Plays – or even on past NCAA tournament "Zion Cams."  It will take a while.
But now, Williamson's next step is the NBA.
Although Williamson's family did not respond to an interview request for this story, Zion's foundation in the Pee Dee is so captivating that friends, teammates and coaches can share what impact he made upon them.
This is the story of an athlete who would stop at nothing to get better.
It's also the story of a mother and stepfather, Sharonda Sampson and Lee Anderson, whose dreams for their son knew no limits.
"(Anderson) believed in this boy," said Michael Jenkins, a sports correspondent for the Marion Star & Mullins Enterprise who wrote about Williamson when he played at Johnakin Middle School. "He had a vision for (Williamson) where I can't see where anybody could have had this vision but him."
As with every vision, there is a glimpse – a beginning.
As a child, Williamson went to McLeod Park as often as he could.
His family searched what league worked best for him while his mother and stepfather groomed him toward becoming an elite point guard. One attempt was joining a coed team for 10- and 11-year-olds in the Florence Youth Basketball League that was coached by Edwin Small.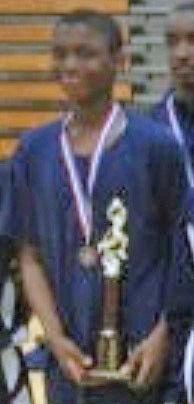 Williamson's ball-handling and leadership skills as a guard were obvious. But so was his height, compared to teammates.
"It's true, he was an all-around player," Small said. "He could shoot, he could dribble, he could rebound. But he was also the tallest player on the team. He wanted to play guard, but with the league we had and how good he was and with his height, he had to play center. He didn't really like that. But he dealt with it, though."
Eventually, the Williamsons drifted toward AAU basketball.
And even the football field.
Coached by Pete Sansbury for three years in youth football, Williamson started on the city of Florence Parks & Recreation Packers team for 9- and 10-year-olds.
"When he was 9, he came on my team at quarterback, defensive back, wide receiver and running back and also played the next year when he was 10," Sansbury said. "He played multiple positions. He didn't play just one position. He was an athlete, and I knew when I first started coaching him that he was going to be something special. He was just a star at all the positions."
To say Williamson was valuable is an understatement.
"He scored the most points, he scored the most touchdowns on offense and he had the most tackles on defense," Sansbury said.
At quarterback, Williamson was just as deft at directing a team as he was a guard on the basketball court.
"Normally I'd call a play, but a lot of times he had the option to audible, because he had such a high IQ for football," Sansbury recalled. "It was a first- or second-down play, and I called a play where the '3' back would run through the '6' hole and maybe get 5 or 6 yards out of the play. But Zion changed the play on an audible and ran a bootleg around the right side and then scored on a 75-yard touchdown.
"That's just how smart he was and athletically talented he was at that age," Sansbury said. "Even then, when he was 9 or 10, he was a step above everybody else."
Williamson also played under Sansbury for one year on the 11-12-year-old Raiders.
But it became apparent basketball was Williamson's preferred sport.
By the time Williamson joined the Florence Cougars, a 14-and-under team coached by Anderson with Chuck Miles as an assistant, more benefits of learning from his family and playing at McLeod Park began to show. Miles knew Anderson because Anderson played college basketball at Clemson with one of Miles' Mayo High School classmates, Colon Abraham.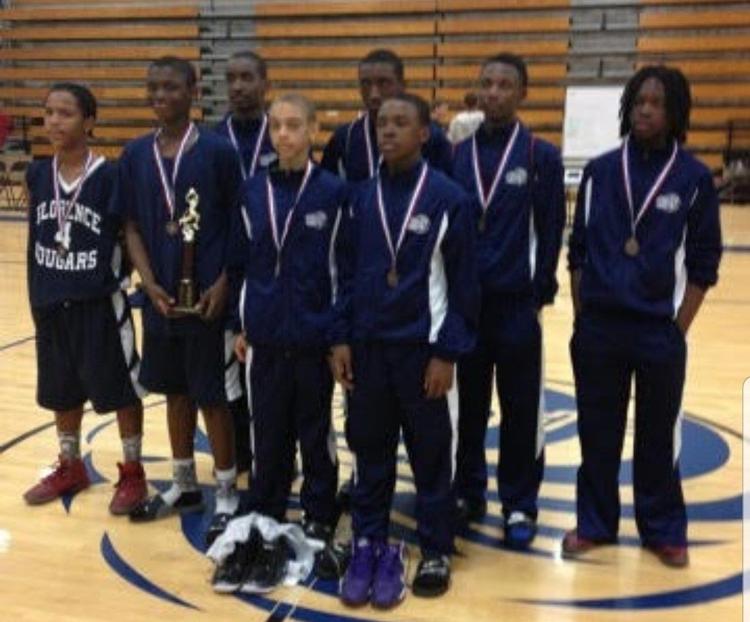 "When I took an interest in getting my son, C.J., started with AAU, I saw (Anderson) some place, and we just started talking basketball and connecting the dots about people we knew," Miles said. "And he started talking about putting a team together, and I said, 'Sure.' And it just evolved from there."
Williamson's stepfather coached the importance of ballhandling. Therefore, Miles thought that could benefit C.J., who now plays basketball for Coker.
"I knew (Anderson) was a teacher, and I knew my son at the time needed more work with his mechanics," Chuck Miles said. "If you watch Zion play, Zion plays like a guard. And that's what (Anderson) stressed: Ballhandling. And that's what Zion did all the time: Play guard. And that's why he's so big now but agile. That comes from his ballhandling skills."
Preparations for AAU tournaments soon began.
"We practiced together a couple of months, because we worked out at Maranatha Christian School's gym for quite a while," Miles said.
One of the team's events was a tournament, "FIBA Hoops at Trinity-Byrnes."
"We had five teams in that age bracket," said Carlos Washington, the tournament organizer. "And Zion's team walked in. The least amount of points an opponent came within was like 30 points."
In that post-tournament team championship photo, Williamson is there with his teammates. His height, however, was nothing different from his teammates.
According to Washington, "There really wasn't anything fancy at the time about Zion except … uh. …"
Miles added, "His motor."
"Zion is a kid that always, when he sees a basketball, he just comes alive," Miles added. "I don't know how else to explain it. He's got his own drive. You don't have to push him. He's doing sit-ups at night and he's doing push-ups at night. You've got to make him go inside so he can go to bed."
But Williamson still enjoyed going to McLeod Park whenever he could. Sometimes, C.J. would go along.
"A lot of times, they would get beat up," Chuck Miles recalled. "But most of the time, they would win, because they didn't quit."
C.J. said a couple other things helped them out as well.
"Although it was every man for himself, that's how you grow up faster," C.J. said. "But we would run the court, because we were younger than them. Playing against older men can't help but make you think smarter and stuff like that."
Those days obviously made a huge impact upon Williamson. So much so, he referred to those days while talking with a group of reporters while playing for Duke, after an early February victory over St. John's.
"I lived in Florence, South Carolina, when I was younger, and it was like a little outdoor park called McLeod Park, when I was like 9 or 10 years old, and I'd go out there and I'd play with, like, grown men, and they would like knock me over, throw my shot to half court and they said, 'Wanna make it big? You've got to be mentally tough,'" Williamson said. "When I get in a physical bout like that, I think it just elevates my game. It just makes me a better player."
Chuck Miles was more than happy to hear the reference to McLeod Park.
"I couldn't do nothing but smile, because very few people knew that," Miles said. "His stepdad and I were like puppeteers in arranging that. It didn't surprise me he said it. But wow, he remembers all that."
Make no mistake about it. Williamson was destined for greatness on the basketball court. A lot of that also had to do with Williamson playing point guard at Johnakin Middle School with his mother as coach.
Naeem McFadden, editor of the Marion Star & Mullins Enterpriser, wrote a lot about Williamson when he was in middle school playing for his mother.
"(Sampson) was highly respected by her team," McFadden said. "I think she was coaching for about five or six years. She had patience and built a pretty nice program for players to transition to the next level. When Zion suited up in seventh grade, she had that squad rolling."
That's an understatement.
"They went 8-1 in the conference and 11-1 overall," McFadden said. "They could run, and she was great at creating depth and sharing minutes. That team would have multiple players in double-figures. Zion was averaging about 15 points per game. His eighth-grade year, I saw him drop 15 in the first half against rival Palmetto."
Coaches, fans and teammates alike could see Williamson's formidable court qualities take shape.
"Zion was developing and growing into a talented guard, and you can tell his mother played a major role by his cool demeanor," McFadden said. "He was humble and was just one of the guys. They were smart and had vision, which is evident in the way his career has taken off."
In 2013, Johnakin even climbed its way to the top of the conference as Sampson and Anderson helped mold not only their son but his teammates into players to be reckoned with.
"I remember talking with (Sampson) about the team's conference championship in 2013, and she mentioned how important guard play was and that people don't understand how important it is for you to have somebody that can take care of the basketball," McFadden said. "Coach said that was the difference between winning two games in the last five years and winning eight games that year."
And, oh, could Williamson handle that basketball, which made up for his average size back then.
That's also what Jenkins noticed.
 "He was small, probably about 5-10, when he was in the seventh grade," Jenkins said. "He was a point guard, good outside shooter with great ball-handling skills. I thought he could end up doing something at the college level later as a point guard.
"But of course, nobody foresaw the growth spurt he had after he left here."
By the time Williamson was done attending Johnakin, it was time to think of a high school to attend.
All the while, Williamson started to show potential in other areas – such as dunking.
B.J. Blue, who played for two years at Johnakin with Williamson, said he executed one of his first dunks that summer between his eighth and ninth grade years at Marion High School.
"This was after practice, and it was a two-handed dunk on one of the gym's main goals, the one near the weight-room side," Blue said. "He had tried some times before. He'd be up there, but he just couldn't get the ball in."
Then, the celebration began.
"He was just hyped after that," Blue said. "And the whole team was hyped for him."
Could Williamson do what he did at Johnakin for the Marion High School Swamp Foxes?
"There was talk of him staying here and playing at Marion High School," Jenkins said. "That summer, he was working out with then-Marion coach John Washington, and a lot of people started to think, 'Wow! He might stay.' That whole summer, Zion was pretty much working with them."
But before Williamson's ninth-grade year began, his family moved to the Spartanburg area, and he went on to play for Spartanburg Day School.
Different city, same talent
Lee Sartor, who was Williamson's coach at Spartanburg Day, knew he was getting a good player. After Sartor was asked what Anderson desired in terms of coaching his stepson, Sartor talked about developing more guard qualities.
"Obviously Zion had played point guard for his mom and stepdad, so I think that one of the things important to them was continuing to work with him on his perimeter game," Sartor said. "I think they understood that if any player can reach their full potential, they need to understand how to handle the ball and make passes and make decisions on the perimeter."
And then there were Sartor's intangibles.
"They knew me as a coach good at teaching kids how to compete and reach their potential and pushing kids to be at a level they didn't think they could reach," Sartor said.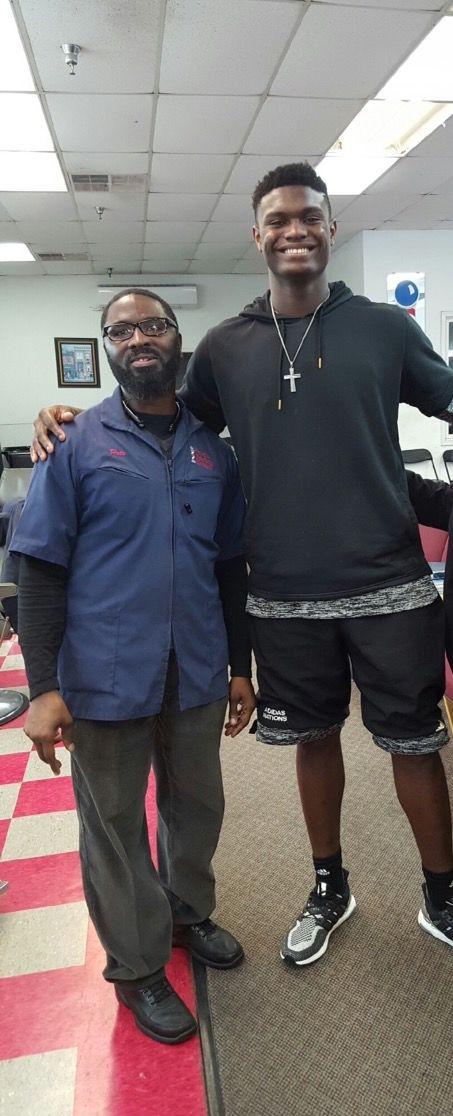 How much better could Williamson get? That would be discovered.
"I was certainly looking forward to coaching him and looking forward to helping him grow as a basketball player and as a person," said Sartor, now the men's basketball coach at Erskine College.
Williamson had not hit his growth spurt yet, so Sartor found ways to help him flourish as a point guard.
"He was a very good player. He understood the game and understood how to get his teammates involved and understood different situations in games," Sartor said. "He was a winner. Even back then, he was a winner. He had a high basketball IQ. But he also had a willingness to play for his teammates and make them better. If he was going to be successful, he had to make sure his teammates were successful."
Then Williamson began to grow.
"He started growing between his eighth- and ninth-grade year," Sartor said. "He grew to about 6-3 his ninth-grade year. And then between his ninth- and 10th-grade year, he grew another two or three inches. And then between his 10th- and 11th-grade year, he started just gaining body mass."
Suffice to say, Sartor was a happy man after that.
"Certainly you're always pleasantly surprised and happy when a kid starts off small and becomes taller," Sartor said. "You always want – as a basketball coach – the tall kids and to watch those kids continue to grow. So I was happy when Zion started to grow. But more so, I was happy that he maintained his skillset.
"In fact, he got much, much better with his fundamentals. A lot of times, kids get taller, but that doesn't necessarily make them better."
Once Williamson grew in size, Sartor wanted him to be more aggressive toward the basket.
"I remember in a drill Zion laying the ball up. And I asked him if he could dunk it. And he said, 'I think so,'" Sartor said. "And I said, 'Well, next time we do it, I want you to dunk it. And he did – a two-handed dunk. And I told him from here on out, whenever we do drills, I want him to get used to finishing with dunks to make sure that becomes part of his muscle memory."
And the rest was YouTube/SportsCenter Top 10 history.
But Sartor wanted even more versatility from Williamson.
"One of the things I make sure about is every player that I ever coach is able to use their right and left hands," Sartor said. "If they can dunk, that's fine. But if they can't, I want to make sure they can play on both sides of the court. So Zion was very, very unique in that he could dunk jumping off his right foot with his left hand and could also dunk with his right hand jumping off his left foot. He was just magnificent and truly gifted as a jumper."
Spartanburg Day played in four SCISA state championship games with Williamson and won the final three. That first appearance and loss, against Bethesda Academy in 2015, deeply affected Williamson.
"I remember Zion standing up with tears down his cheeks and saying, 'We will never lose another state championship.'
During each of these four years of Zion Williamson at Spartanburg Day, the Griffins had to play Trinity-Byrnes in the Final Four. Three times, the Titans lost in the semifinals.
And in 2018, Trinity-Byrnes lost to Spartanburg Day in the state championship game.
Larry Cullinane coached the Trinity-Byrnes boys' basketball team for six years before resigning last month. Before coaching the Titans, he won three Virginia private-school state championships as well as a 2001 National Association of Christian Athletes tournament. Before arriving in the Pee Dee, Cullinane's teams faced off against future NBA stars like Carmelo Anthony, Kevin Durant and Tracy McGrady.
Now, add Williamson to the list of famous players Cullinane has coached against.
"Well, let's talk about the big fella if you'd like," Cullinane said.
The first question to Cullinane was this: How many state titles does he think his program would have won if Williamson had not played for Spartanburg Day?
"Well, we should have had the opportunity to win two of them, I think, for sure," Cullinane said. "I thought when our guys got a little bit older, I thought that whole group had a chance to win when we were juniors and seniors.
"I thought Bethesda Academy was very good the first year and second year," he added. "They made it to the final in 2016, too (Spartanburg Day defeated Christian Academy for the 2017 state crown). Bethesda would have been difficult for us when we were a core group of sophomores."
When Trinity-Byrnes played Spartanburg Day, Cullinane liked his team's mindset.
"We weren't intimidated," Cullinane said. "We weren't intimidated at all. Our guys had played against him or grown up playing with him. When he was in the sixth to eighth grade playing rec ball in the Pee Dee area, all those guys knew him as the left-handed guard between 5-7 and 6-0 at that point.
"(Williamson) was just another player. I would say he was good but not above or beyond anybody else. His team at (Johnakin) played our B-Team at Trinity-Byrnes my first year there, six years ago."
"You don't know he's going to grow 6 inches over the summer and put on like 60 pounds at that point and turn out to be the athlete he was, because at that point he was about 5-11, 6 feet and left-handed," Cullinane said. "He was a good player but not certainly anybody you would say was great. At that point he had not matured, reached his growth spurt or done any of that. Our guys played him in our gym and were very competitive with him."
After Williamson hit his final growth spurt, things were different.
"Mother Nature sort of took over, or God took over, whatever you want to say," Cullinane said, "and a lot of growth, a lot of strength and a lot of ability."
Cullinane sure saw plenty of ability in Williamson.
"I will say this: I think the thing that makes him special even now is his pace of play," Cullinane said. "When he really plays at the highest level, his pace is extraordinary. He has great vision, he can get up and down the floor with or without the ball at an extremely high rate. You see the athleticism he brings to the table – not only getting above the rim but getting TO the rim."
Supreme with SC Supreme
Before Williamson's senior season at Spartanburg Day, his final AAU experience was with the U17 S.C. Supreme, which included Pete Sansbury's son, Caleb, and was coached by Anderson.
Caleb was in awe watching his former youth football teammate handle all the hype around him.
"It was just a really good time to experience being around that kind of player," Caleb said. "He really COULD do it all on the court. It was a real good time to see what his life was like every single day and just having all the people around you and watching your team on the big stage, because you're on a team with Zion. It was such a good experience.
"And it was so good to see him after having played youth football with him.  And it was good to see that he hadn't really changed. He was still very humble."
But Caleb also began to see what made Zion the top national basketball recruit in his class.
"It's his ability to pass you the ball, and his ability to get to the rim at any time," he said. "He knows his sweet spots on the court. And, he's just an excellent teammate."
And, as a team when Williamson was healthy, the S.C. Supreme was tough to beat.
"I'm not sure how many games we lost, but Zion got hurt (knee) early in the summer," Caleb said. "We played a few tournaments without him. But when he was playing, we didn't lose many games."
Caleb, who is studying engineering at Coastal Carolina, remembers how Williamson inspired him in ways that transcend sports.
"He made a big impact on me, a positive outlook that I could be anything I want – even if it's got nothing to do with basketball and sports," he said. "Zion is about pursuing your dreams. That's what he did, and now he's on the big stage."
All the while, Williamson's humility remains intact.
Quality off the court
Looking back, what Cullinane appreciates most about Williamson is his character.
"Zion is a great kid," Cullinane said. "It's one of the things I'll always remember about him. Whenever I saw him, he always went out of his way to say hello to me. And guys don't have to do that. He's competed against me, that's all. And he would always come over and shake my hand and say, 'How are you, coach?' That's a special kid."
Williamson also reveres those he grew up with.
He even showed up at Marion High School in the boys' basketball team's final home playoff game in 2018 to see former Johnakin teammates like Blue and Kalik Faulk play.
"It was halftime, and I was walking out the tunnel and I heard, 'Zion is here,'" said Faulk, who plays football at St. Andrews University.
"It was shocking and unexpected," Blue added. "He had just popped up out of nowhere. I subbed out of the game, and my teammates were telling me to look in the stands, and I saw him. We were already motivated. That was our last home game ever. But we turned it up a little bit more for him. I started playing harder."
Marion went on to win that game. And Faulk and Williamson caught up on life after the win.
"We chilled after the game, and we went to my cousin's house and talked some more, just me and him and his stepdad and mom," Faulk recalled. "He had already committed to play at Duke but had not won state yet. We didn't really talk about basketball much. We talked about other stuff."
Faulk said he and Williamson snapchatted each other in early May, but Williamson has been busy since then preparing for the NBA Draft. 
Moments like Williamson's appearance at Marion are what Jenkins thinks perhaps benefits Williamson the most from his time living in the Pee Dee.
"He developed friendships he will have for the rest of his life," Jenkins said. "Those guys bonded in a way – they were all just babies coming up together. When he came back here like he did for a game, it told me this was a brotherhood. And I don't know if he got that when he went to Spartanburg, or even to Duke.
"But here, I know those kids bonded, and I know those are lifetime connections he gained from here, and I can see how those things will help him going forward, because I'm sure he's not going to be connected with all those kids from now on. But I promise you, even right now today, he's talking to one or two of them on a regular basis right now."
After leading Duke to an ACC tournament championship and the NCAA tournament Elite Eight during his freshman year, Williamson declared for the NBA Draft.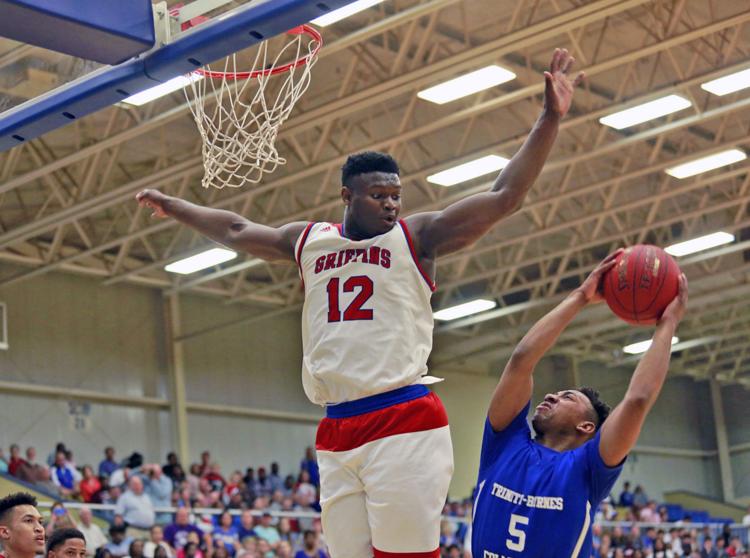 He's projected to be picked No. 1 by the New Orleans Pelicans and has been training for the moment.
"He's in California training for the draft," Sartor said. "And of course he's doing a lot of appearances, and he recently got to meet Dwayne Johnson and did a commercial with him that I guess will be released at some point soon." It recently began airing.
Sartor will even get to celebrate Williamson's Thursday moment with the Williamsons.
"I plan on being at the draft with him," Sartor said. "So then, I'll have the opportunity to see him again." Considering Sartor coached Williamson for four years before he went on to be a star at Duke, and eventually in the NBA, he perhaps has the greatest perspective on Williamson's preparedness.
"I think he has handled the whole situation well, and I often say, 'God doesn't put more on you than what you can handle,'" Sartor said. "The average high school player in America or the world probably couldn't handle all the notoriety that he was able to gain and certainly couldn't handle all of the scrutiny and all the hype that he has had to play under game after game.
"Zion has remained humble, and he's remained respectful. And I think that has a lot to do with his parents, his mom and his stepdad, and I think it has a lot to do with just wanting to make sure he really loves and respects the game of basketball."
With that in mind, it comes as no surprise that Sartor thinks Williamson will continue to be a success in the NBA.
"I think the best is still yet to come with Zion, because the more I think he's challenged, the better he will be," Sartor said. "He's such a perfectionist. And he will work hard to make sure all his weaknesses become strengths and his strengths are as strong as they can be.
"And I think if God can continue to spare him no bad luck in injuries, I think he has the chance to one day be the best player on the planet."
And dunker, too? Cullinane certainly thinks so.
"The question I have is how many slam-dunk competitions would he have won if he competed against the best athletes in the world, even as a sophomore or junior in high school?" Cullinane mused. "You watch the slam-dunk competitions in high school, college or the NBA's All-Star Weekend. I'm not sure if Zion doesn't win all those events just based on his pure explosive ability off the court."
Back to where it all began
Meanwhile, back at McLeod Park, memories remain of Williamson's trials and tribulations against those much older and bigger than him.
That picnic table remains for people to sit and watch the next pickup game.
Those were simpler times – for those who got to watch Williamson back then.
But as Williamson gets ready to play instead for sold-out crowds, one thing is for certain.
"I'm going to shock the world #Believeit," Williamson tweeted almost three years ago.
No one knows that more than the Pee Dee.