DARLINGTON, S.C. — They stand with Jared Amell in commitment, faith and love.
One could say that about a football team like his Trinity-Byrnes Titans, who are playing Hilton Head Christian for the SCISA Class 2A championship at 6 p.m. Saturday in Columbia.
But one could also say that about his family, which shares that same sideline under the lights. Meet Amell's wife, Hannah, and children Cade (10), Ellie (5), Reid (3) and Beau (1).
One team, one family. One family, one team.
In Amell's life, that's success.
More important, it's fulfillment.
"That's the great thing about Trinity-Byrnes, the small atmosphere here," Amell said. "Football is something my family does. It's a way of life for our family because Friday nights are very special to us. If I couldn't have the most special people to me sharing it with me on Fridays, it wouldn't be as great of an atmosphere and it wouldn't be what it is."
Amell, from New York, took up the game at age 7 and went on to be a college quarterback and baseball player at NCAA Division III Saint Lawrence. He then served as quarterback coach there before becoming offensive coordinator at Lakeland College.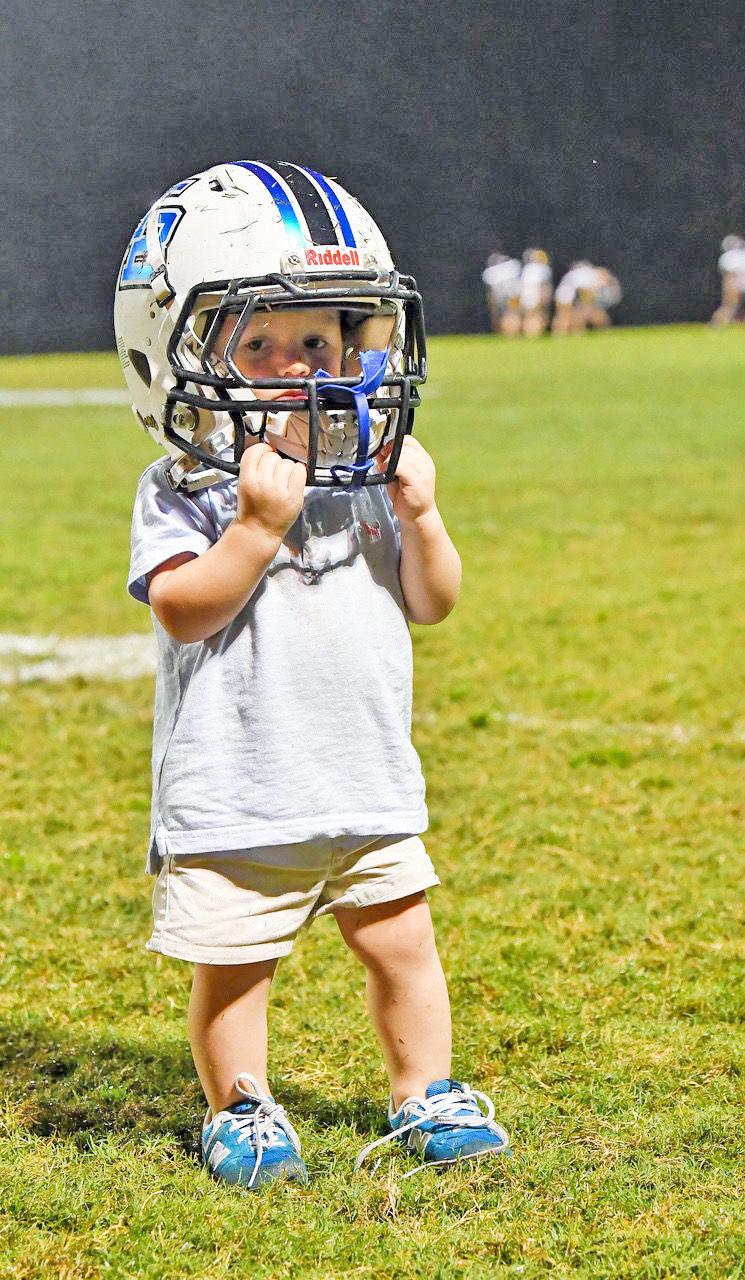 "I think that really helped me from an offensive standpoint," Amell said. "When you focus on something 24-7, 12 months a year, it just hones your skills. That's all you do. That's all you know, trying to figure how to score points. And I think that helped myself in trying to be creative and adjusting to the personnel we have from year to year."
That's a lot of football, however.
"The nice thing about college football is that it's football all the time," Amell said. "And the bad thing about college football is it's football all the time."
With a degree in finance, Amell teaches AP classes in microeconomics, macroeconomics and statistics at Trinity-Byrnes.
"I knew I wasn't ready to go into the business world because I knew I wasn't ready to let football go," Amell said. "I could never see myself letting football go."
But Amell eventually saw himself as a family man.
The next moveAt one point or another, every person asks what else is out there besides a job.
"When I was coaching college football, I always knew I wanted a family," Amell said. "Being a young college coach, I moved three times in four years, climbing the college ladder. But I got out of it for a reason. I wanted a family. At the college level, it was very difficult."
After meeting Hannah, that desire for a family became clearer. Just so happens, Hannah is just as crazy about football. She grew up going to University of South Carolina football games and once worked in the football program's department while she was a student there.
"It was always a huge interest of mine," said Hannah, a marketing consultant for WPDE, Myrtle Beach's ABC affiliate. "It literally was football that brought us together, and our relationship and family evolved around the whole thing, to be quite honest. It's an interesting story and it's been an interesting ride. And our family has all just been a part of it."
To illustrate how much Amell's family has been part of this, Hannah was due to give birth to Reid the same day as the Titans' first-round playoff game in 2016.
"I jokingly said to my wife, Hannah, 'That's a Friday. That's not going to work," Amell told the Morning News in 2016. "And then she quipped, 'Well, let me go ahead and tell the baby that, Jared.'"
Reid did not arrive that day, however (she was born three days later). But that didn't stop Hannah from being on the sideline while the Titans beat Bethesda Day.
"She was on the sideline supporting us with two of our other kids on a Friday during a playoff game, and that tells you my family's passion for it," Amell said. "She should be bed-ridden, due in three days. But she's out there with the family supporting me."
It's a team effort, actually.
On some days, when Hannah isn't able to pick up kids after school because of her job, that leaves Cade to play the babysitting role at the practice field while the Titans prepare for their next game.
"We literally take it day by day," Hannah said. "And no one knows what the day will throw at us. But football is a sense of family to us, from July until November. We eat, sleep and breathe football, and the whole family has accepted that."
Jared then talked more about being a football coach and helping raise a large family during the season.
"Anybody who has four children knows it's not easy," Amell said. "It certainly helps to adjust and adapt. No matter what you have planned for any given day, it's not necessarily going to go that way when you have four children at home. Managing not to sweat the small stuff and just moving on from anything is something you learn. It's always a little chaotic and always a little unorthodox. But when I get home, I see the easy part, dinner on the table half the time and the kids are getting ready for bed."
Although Amell has his playbook for games, he goes by Tampa Bay Buccaneers coach Bruce Arians on how to navigate through football season with a family.
"He says if you miss your child's game or your daughter's ballet, you're fired," Amell said. "I try to live by that. On our staff, our coaches have 14 or 15 kids, combined. It's special when everything, the players and the coaches and their families, can morph and it becomes just one family."
Now, this "family" is one win away from capturing the program's first state championship after a state runner-up finish in 2017 and '18 loss in the semifinals
And during this current playoff run, don't think for a minute the Amells' household coach isn't appreciated.
"My wife is the one who has to do the tough part. She makes it work," Amell said. "She's kind of Superwoman to work her full-time job and she allows me to do my job."
And if the Titans win Saturday?
That would be very special," Amell said. "Cade has grown up on the sideline, and he's learned the life lessons: Two years ago losing at state and losing in that semifinal game last year, he took that rough, too.
"It's the tough moments of the last two years that would make Saturday even sweeter for everybody," he added. "Not to have been handed it, but to work for it. I think those will be great lessons for all of us."
Of course, there's nothing Hannah would like more than to see her husband accomplish that goal.
"It's special," she said. "There's nowhere else I'd rather be on Fridays than being on the sideline, supporting Jared. He pours his heart and soul into this game, changing the lives of kids every day and being a part of their lives while enjoying his passion. Not many get to work and do what they love every single day. And he's so fortunate to get to do that and it takes a group effort to be able to do that."
Therefore, a Titan win Saturday could bring about an on-field celebration.
And in the Amell household, that celebration would just continue.
"It would mean everything to us," she said. "It would be the last piece of the puzzle we've worked so hard to put together. This is such a special group of kids. I've called them a dream team for the whole season because they're so special on and off the field. This is not just a game. It embodies everything that our family's about."