FLORENCE, S.C. — Leon Johnson knew exactly what his team needed to do in the second half.
"When we talked in the dressing room, we knew we wanted to be in man (defense) to start the second half," the Marion boys' basketball coach said. "If we got in man, we'd get back in the ballgame."
It took a few minutes, but the Swamp Foxes proved their coach right — rallying from a 15-point deficit to edge Darlington 73-69 in the opening game of the 34th Annual Pepsi Carolina Classic at the Florence Center.
Marion will now face the Lee Central/Wilson winner at 7:30 p.m. today. The Falcons will play the loser at 4:30 p.m.
"T.J. (Sanders), A.J. (Vaught) and Mac (Washington) — they all played cohesively and they all played together in the second half, which is what we needed," Johnson said of his top three scorers. "We get hurt a little bit on the rebounding side, because we stand around and watch sometimes, but we're trying to get the ball out and run with it."
Sanders and company were able turn the tide right after Darlington built its biggest lead of the game, 46-31, near the start of the third quarter. Marion outscored the Falcons 42-23 the rest of the way, including 22-10 in the fourth quarter.
Sanders led the charge with a game-high 26 points, including 12 in the third quarter, and pulled down 13 rebounds. Vaught followed 17 and Washington added 13 points and 10 rebounds.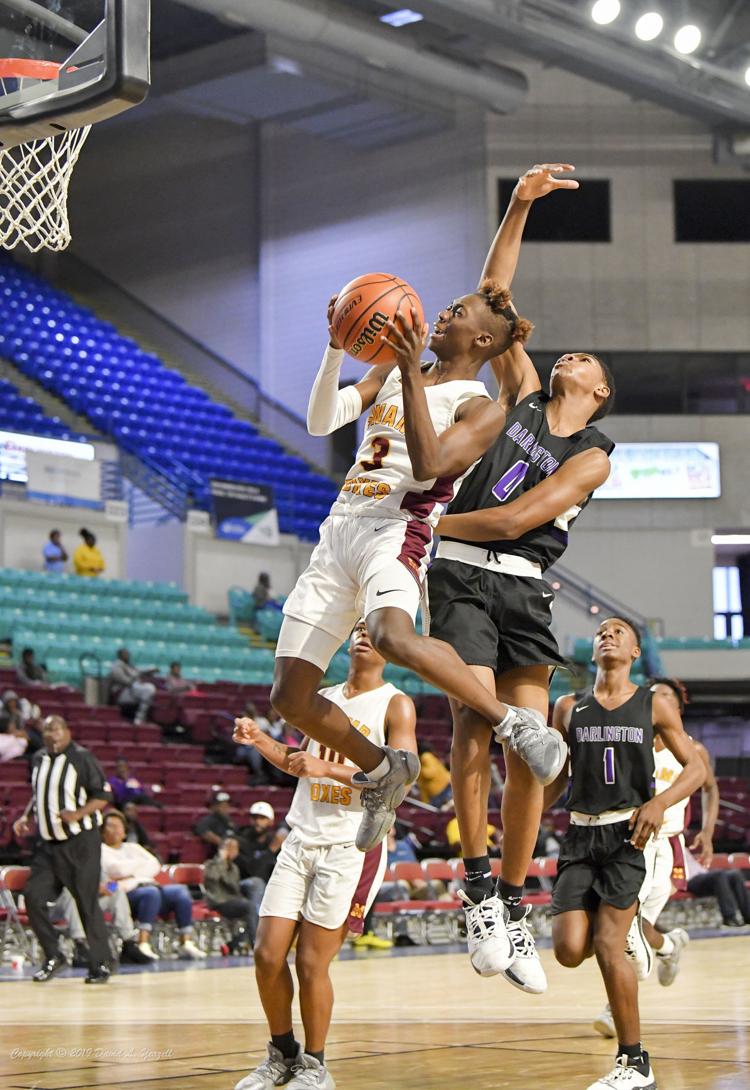 The duo also combined to sink two big 3-pointers during the Swamp Foxes' comeback in the fourth quarter, and Vaught made all three free throws following a foul beyond the arc as well.
It was a tough loss to swallow for the Falcons, who began the game on a 8-0 run and the second half on an 8-2 run.
"We're up 11 points with six minutes to go, and this kind of thing shouldn't happen," Darlington coach Anthony Heilbronn said. "We were holding the ball trying not to give up the lead, but at the same time, you've got to find ways to still generate offense."
That's part of having an inexperienced squad comprised of only two players with significant varsity experience, he went on to say.
"We're struggling to kind of find the right combinations right now," Heilbronn said. "And our youth shows. We turned the ball over way too much and just made too many mistakes at the end."
Freshman Deuce Hudson led the way offensively for Darlington with 15 points. Qua'liek Lewis and Javorious Williams followed with 12 points each. Lewis and Tre'Quan Scott connected on two 3-pointers each and Hudson had another.
Davion Bowens added eight points and led the way with 14 rebounds.
Deuce Hudson 15, Qua'liek Lewis 12, Javorious Williams 12, Scott 9, Bowens 8, Gary 6, Dubose 3, Polk 2, Perkins 2.
T.J. Sanders 26, A.J. Vaught 17, Mac Washington 13, Allen 7, McCullough 6, Charles 4.
NEXT GAMES: Marion will play the Wilson/Lee Central winner today at 7:30 p.m. while Darlington will play Wilson/Lee Central loser at 4:30 p.m.