DARLINGTON, S.C. – Just when it seemed every twist and turn had happened in Wednesday's district final between Darlington and North Myrtle Beach, the sprinklers went off on the Falcons' field before the bottom of the seventh
Not in the day's first game, but the second.

If only those sprinklers had waited another 45 minutes when the Falcons defeated the Chiefs in extra innings to win the SCHSL Class 4A District VIII championship.  Now THAT would have made Wednesday an even more memorable night for these young Falcons.
No seniors, just two juniors.
Now, this team has a first-round lower-state game Saturday at Colleton County.  That's because the Falcons' Naya Jones beat out the throw from second for an RBI single in the bottom of the ninth to give Darlington a 4-3 victory in Wednesday's Game 2 against North Myrtle Beach.
That second game was only forced after the Chiefs won 6-5 in Wednesday's Game 1.
"I told the players after the first game to have some pride and dig deep," Darlington coach Tim Wiley said. "We're so young, and you see all the inexperience like base running time and time again. But we just got through it, and they dug deep and they just kept playing. That's all you can say."
In Game 2's ninth inning, teams were obligated to start each half with a runner on second. After Darlington, which won the coin flip to be the home team, kept the Chiefs from scoring, the Falcons set up the district-winning run. After courtesy runner Lindsey Tiller was placed on second base, Katelyn Church bunted on by avoiding the tag at first while Tiller reached third. After Kierston Stone reached because her bunt was fielded to keep Tiller at third, Darlington had the bases loaded with no outs.
But Chiefs pitcher Serra Ballard, who escaped fifth- and sixth-inning jams with strikeouts, struck out the Falcons' next two batters in the ninth.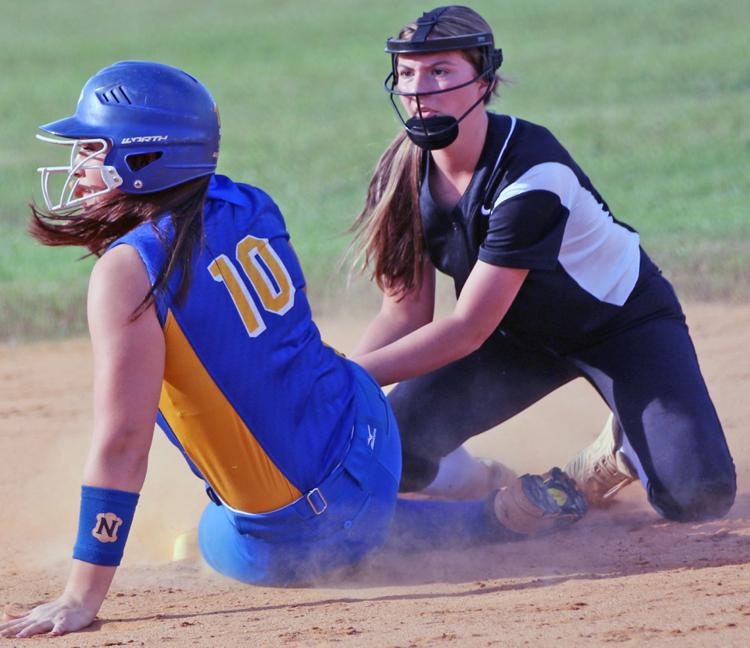 Then, it was Jones' turn. And her hit for a single.
And, the Falcons' win.
 "She's our leadoff hitter," Wiley said. "We knew we had a decent chance. But we didn't think it would end like THAT. But hey, a hit's a hit. It's an infield single because she's so fast."
There was a lot more going on at the time with Jones.
"I just had a lot of nerves because I wanted to get the winning run in," Jones said.
After Tiller crossed home plate, pandemonium ensued. But also a step forward in the team's maturity.
"It's like one of my assistants said: 'They grew up tonight,'" Wiley said. "We're starting two eighth graders, a ninth grader behind the plate and four 10th-graders."
Early in Wednesday's Game 2, Darlington took a 1-0 lead in the first on an RBI double by winning pitcher Madie Andrews.
But the Chiefs responded with three in the third. After an RBI single by Taylor McDowell, Andie Crimminger hit a ball that was mishandled by the Falcons' infield and allowed two others to score for a 3-1 North Myrtle Beach lead.
In the fifth, Darlington started climbing back into contention. After the Chiefs mishandled a ball hit by Stone, Tiller scored with nobody out to narrow the deficit to one.
North Myrtle then recorded two outs before Darlington loaded the bases. And with Alayna Williamson at the plate, Chiefs pitcher Serra Ballard struck her out.
In the sixth, Darlington's Ashton Goodwin hit a ball that resulted in an error and scored Shanaya Jackson to tie it at 3 with one out.
"I can't say enough about their resilience," Wiley said.
The Falcons, then with runners at second and third, had the chance a short time later to take the lead with two outs. But just as Ballard did to end the fifth, she ended the sixth the same way – with a strikeout, this time against Stone.
In Game 1, McDowell hit a two-run homer with two outs in the fifth gave the Chiefs their 6-5 lead and cap a four-run rally.
The previous inning, Darlington broke away from a 2-2 score to make it 5-2. After Jones hit an RBI single for Darlington, two errors on a ball hit by Williamson scored teammates Sara Ellen Hanna with Jones right behind her to give Darlington its three-run advantage.
Singles by the Chiefs' Macy Prince and Aaliyah Earl, however, started the pivotal fifth. With two outs, Ballard hit a two-run single. Then, McDowell followed with her blast over the left-field fence.
It was Darlington, however, which took the first lead of Game 1 with an RBI groundout by Williamson and run-scoring single by Andrews.
At the end of the night, however, was the results of an impressive performance by Andrews as the Falcons' pitcher.
"Madie pitching two complete games, 16 innings total, was huge," Wiley said. "(North Myrtle) had more pitching than we did, and that was my concern after they won Game 1. But (Andrews) toughed it out."