LAMAR, S.C. – Chad Wilkes isn't shy about telling everyone exactly what the game plan for his Lamar football team is going to be the rest of the season.
But like Cheraw found out Friday, knowing it and stopping it are two entirely different matters.
The Silver Foxes dominated the line of scrimmage against the Braves – piling up 351 yards on the ground to go along with five rushing touchdowns in a 52-27 romp at Donald R. Poole Stadium.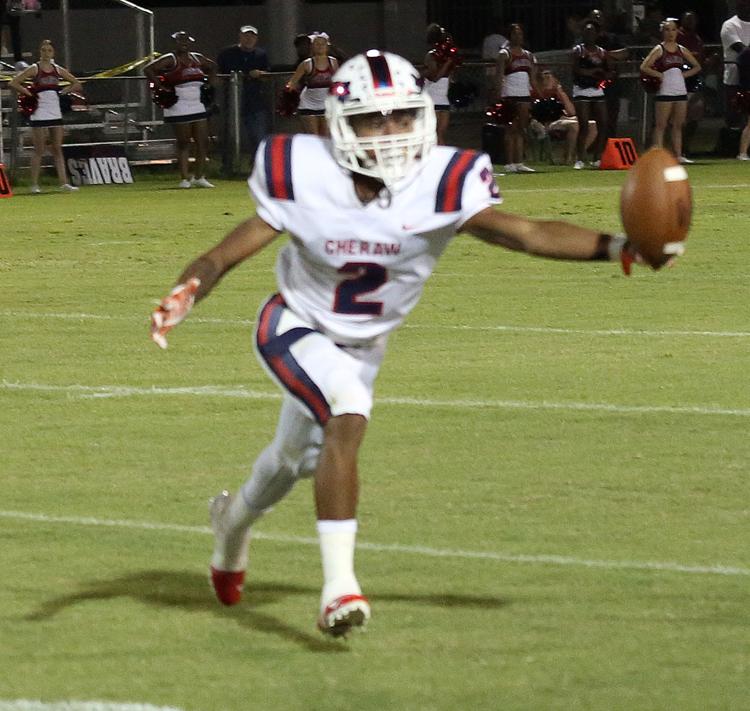 Lamar improved to 4-1 and faces another top Class A squad next week when it travels to Lake View. Cheraw falls to 4-1 and has a bye week before hosting Aynor on Oct. 4.
"It's not a secret that that's what we're going to do," Wilkes said of his team's run-heavy attack. "We've got a good offensive line – they're veterans, they're experienced, they're really strong and they practice hard. They're everything you want in a bunch of kids, so we definitely try to lean on them with a bunch of young skill kids."
Two skill players that are upperclassmen each had big nights against the Braves. Junior running back Jiaquell James ran 18 times for 151 yards and three scores and senior quarterback Cam Galloway had 128 yards on 16 carries and another score.
"(Galloway) was able to hit creases and make guys miss on the second level," Cheraw coach Andy Poole said. "And that offensive line is probably the best we're going to see all season."
Eight of Galloway's runs also went for first downs and the one score – although he had another called back on an illegal shift penalty. Even though he threw the ball only three times, one was a 9-yard TD pass to Tavaris Dolford just before the half that helped Lamar go up three scores.
"A lot of stuff we do is based off of him reading (the defense)," Wilkes said of Galloway. "I never call a play that's just for him to run the ball. Literally every play is him reading somebody and making a decision, and he's got a knack for that. He's a good football player."
The Silver Foxes also had a couple of big special teams and defensive plays. They returned the opening kickoff to the Braves 18-yard line and punched it in from there and also blocked a punt that was recovered in the end zone by Jalen Langley for another score in the third quarter.
Patrick Anderson also picked off Cheraw quarterback Tyson Hall early in the third quarter which led to another touchdown drive for the Silver Foxes.
That was how momentum swung most of the night. Even after scores by Cheraw, Lamar immediately answered. Jalen Coit's 35-yard scoop-and-score on a partially blocked punt in the third quarter was quickly followed by Galloway's 30-yard run, and his 27-yard TD reception in the second quarter was negated by a late scoring drive just before the half ended.
"It reversed right back on us," Poole said. "We saw some things we liked on film and in the game, but we'd get a ball tipped or throw it behind (the receiver). It was always something preventing us from moving forward, and that's what good teams do – they stop the other team."
Hall and Coit did find success by hooking up for two scores. Hall also found Reggie Davis for a 19-yard strike in the third quarter and finished the game 18 for 36 for 185 yards. Coit, the Shrine Bowler, had seven catches for 84 yards and finished with three total scores.
L – Dajour Green 4 run (Green run), 10:08.
L – Jiaquell James 1 run (James run failed), 2:13.
C – Jalen Coit 27 pass from Tyson Hall (Bradford Dyson kick), 2:03.
L – Tavaris Dolford 9 pass from Cam Galloway (Patrick Anderson run failed), :05.
L – James 24 run (Green run), 10:30.
C – Coit 35 punt return (Dyson kick failed), 7:21.
L – Galloway 30 run (Green run), 6:01.
L – Jalen Langley punt block recovery for touchdown (Ronnie Abson kick), 3:51.
C – Reggie Davis 19 pass from Hall (Dyson kick), ), :43.
L – James 30 run (Derrick Higgins run), 8:04.
C – Coit 10 yard pass from Hall (Dyson kick), 6:24.
RUSHING – C: Zion Baylor 4-67; Joshua Ellerbe 4-27; Tyson Hall 4-(-7); Damarrion McKaskill 1-1. L: Jiaquell James 18-151, 3 TDs; Cam Galloway 16-128, TD; Dajour Green 8-41, TD; Quan Toney 5-17; Rashad Johnson 1-14; Ronnie Abson 1-0; Tavaris Dolford 2-0.
PASSING – C: Tyson Hall 18-36-185, 3 TDs, 2 INTs. L: Cam Galloway 2-3-5, TD
RECEIVING – C: Jalen Coit 7-84, 2 TDs; Reggie Davis 6-57, TD; Josuha Ellerbe 1-18; Andre James 2-15; Ricky Lockhart 2-9. L: Tavaris Dolford 1-9, TD; Dajour Green 1-(-4).