FLORENCE, S.C. – Florence's third-round playoff series opener against Camden on Monday had a little bit of everything, coach Derick Urquhart said.
And thankfully for Post 1, that included a walk-off victory – literally.
Will Hardee took a 3-1 pitch for a ball with the bases loaded in the bottom of the seventh inning as Florence overcame Post 17 ace Justin Dorton and a few miscues to outlast Camden 4-3.
Post 1 takes a 1-0 lead in the best of five series and improves to 31-3 overall. Post 17 falls to 18-6 and will host Game 2 tonight in Camden, weather permitting.
"We battled adversity," Hardee said afterward. "We knew coming into this game that it was going to be hard. We did what we had to do all night long, and I can't ask for anything else."
Hardee's game-ending free pass came not off Dorton, but reliever Alex Canino. He entered with the bases loaded and one out before getting D.P. Pendergrass to fly out to center with a drawn-in outfield.
Hardee stepped up and the count quickly went 3-0 before Canino finally delivered a strike.
"I knew if I was going to swing at a 3-1 pitch, it had to be absolutely perfect," Hardee said. "It wasn't what I wanted to hit so I took it. I can hit with a 3-2 count, but it ended being a ball, so we'll take the win instead."
It was the first such victory against Dorton (7-1) this year as the Post 17 left-hander saw his unbeaten streak – one that dates back more than two seasons – come to an end. He went 6 1/3 innings and allowed four earned runs on five hits with two walks, two strikeouts and two hit batsman.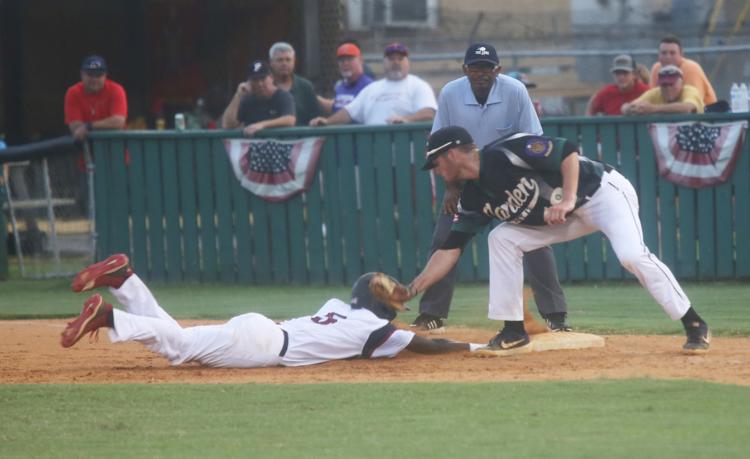 The last-inning rally was started by the bottom of Post 1's order. Eight-hole hitter Gage Weatherford connected on a one-out single and Cam Galloway followed with another. Noah Carter was then hit by a pitch to load the bases and end Dorton's night.
"Gage and Cam had the two biggest at bats of the game," Urquhart said. "To be able do that – eight, nine in the lineup – to get things going and really that's what we needed. We were able to roll the lineup over to give Noah and give D.P. and Will the opportunity to drive them in.
"Those were two huge, clutch at bats."
Especially considering what transpired the previous two half-innings. Down 2-1 in the bottom of the fifth, Florence took the lead when Carter's fly ball to center was not picked up by Camden's Bradwin Salmond and fell in for a two-run double.
Not going down quietly, however, Post 17's Wynston Dyer led off the top of the seventh with a solo home run to knot the game at 3-3.
"Credit them, because they never gave up and we never gave up," Urquhart said. "They lost a ball in the sky and came back with a huge home run. We made a couple mistakes here and there and came back. It's two of the best teams in the state battling it out."
The home run just about marked the end of the night for Florence starter Anthony Hopkins, who went six-plus innings and gave up three runs, two earned, on five hits with three walks and two strikeouts. Austin Windham came in and kept the game tied to eventually pick up the victory.
Camden got its other two runs in very different ways. Jake Laffin's RBI single in the first plated an unearned run following a Post 1 error that would have ended the inning a batter before.
The second came on a trick play in the fifth. Salmond was able to distract Hopkins' at first base long enough for Noah Rabon to swipe home on a delayed suicide steal.
"We've got the same play," Urquhart said. "They ran it perfectly – you want the pitcher to look at the runner for a split second and meanwhile that guy's already running from third. It was well-executed."
Hardee drove in the other run for Florence with an RBI single in the fourth. He finished 1 for 3.