FLORENCE, S.C. – The early part of the season has likely given the young South Florence High School girls' tennis squad some added confidence.
The Bruins feature one sophomore and five freshmen in their top six spots, but youth hasn't been an issue so far – and it wasn't on Tuesday against senior-heavy Wilson.
Three matches went to third-set tiebreakers, and SFHS was victorious in two of them to claim a 4-2 win over the Tigers at Dr. Eddie Floyd Florence Tennis Center.
The Bruins improved to 5-0 while Wilson fell to 2-2.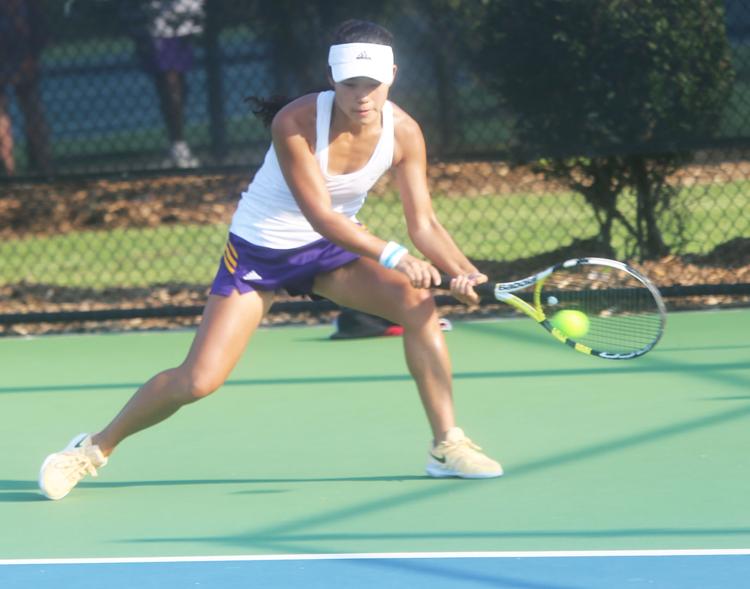 "It was good to see that they didn't get too confident with the other wins and they still worked really hard today," South Florence coach Mary Beth Gardner said. "They're a young team, and it's really good that they have that confidence."
It's come in part because of the group playing pretty much year-round, Gardner said.
"They've had to work really hard and play all year – it hasn't just been during the season," she said. "I have to give the parents a lot of credit for getting them to clinics and having them play each other throughout the whole year. It makes a big difference."
The Bruins got wins at Nos. 2, 3, 4 and 5 singles. Carolina McKenzie took her match against Kamari Hudson in straight sets 6-2, 6-3 at No. 2 and Brooks McKenzie did the same at No. 4 with a 6-3, 6-0 win over Sandy Lin.
Things were a little tighter in the other two Bruins' victories. Sarah Hayden McKenzie earned the three-set victory over Alexis Hinson at No. 3 by outlasting her 11-9 in the third set. She won the first one 6-4 before dropping the second 6-3.
Morgan Brock also had a lengthy battle with Wilson's Brianna Mason at No. 5. Brock took the first set 7-6 (2), fell 6-4 in the second set before rallying to take the third 10-4.
"This was her first win of the year," Gardner said of Brock's effort. "She's gone through several match tiebreakers and has not been able to pull through, so it was really awesome that she was able to get the win today."
Leanna Wong and Anna Ervin got the win at No. 2 doubles for Wilson via third-set tiebreaker as well. The duo took the first set from Anna Patterson and Blair Crosby 6-4 before dropping the second set 7-5. They rebounded for the match victory with a 10-5 win in set No. 3.
The other Tigers victory came at No. 1 singles where Rebecca Liu defeated Claire Nance in straight sets 6-0, 6-2.
In contrast to the Bruins, Wilson had seven seniors on the court Tuesday, but not all have had the same amount of experience, coach Fed Davis said.
"They haven't all played since sixth, seventh, eighth grade," Davis said. "They learned to play tennis when they got to Wilson. "But my philosophy is that you can learn from winning as well as learn from losing. You have to appreciate both to understand both."
Davis went on to say he saw a lot of good things as the Tigers competed throughout the day – especially during the two three-set tiebreakers they eventually lost.
"If you're in condition to run, you can stay out there with anybody," he said. "If you can get the ball back in play, you can stay out there and that's what Alexis did today. I'm really happy with the way she competed and Brianna also.
"I expect good things from (South Florence) and I expect good things for my girls as well."