DARLINGTON, S.C. — With near pit-stop-like precision, two NASCAR-related charities and a Charlotte church handed out food, cleaning supplies and stuff for children who have been affected by the COVID-19 pandemic.
Cars lined up off S.C. 151 in a field at the track starting early Monday morning. By 9 a.m. NASCAR CEO Jim France and others had directed a line of traffic that looped back and forth on itself to fill the field and onto a frontage road along the track.
Every hundredth car had a small orange cone leaning on its windshield. Every seven car had a colorful ring leaning on its windshield.
"I'm honestly not surprised," said Jamie Waldron, outreach pastor for Elevation Church, referring to the turnout. "COVID hit us pretty hard so for us to come in to a community that might not have as many nonprofit agencies and resources, and we know there are some great food banks around, but there are a lot of people who need help. It's not surprising to me at this point."
At 9 a.m. Autumn English held up her megaphone and hit the siren on it to indicate the time had come to start and then, figuratively anyway, dropped the green flag.
The line of cars moved in an orderly fashion, directed into two serving lines that alternated loading cars and dismissing cars onto Racetrack Road and teams of volunteers with the Joey Logano Foundation, NASCAR Foundation and Elevation Church out of Charlotte, N.C., loaded them up.
Volunteers walked up and down the final approach to distribution with a sign that directed drivers to pop their trunks while other volunteers lifted hatches in anticipation of loading.
Volunteers smiled through their masks as they greeted drivers in line and asked them how they were doing. Other volunteers swarmed the vehicle and shoveled in bags.
"One Ready! Two Ready! Three Ready!" English shouted over the megaphone. The first two groups of volunteers in one serving line flashed thumbs up, one did not.
"Three Ready! Three Ready!" English shouted, not for the last time Monday morning.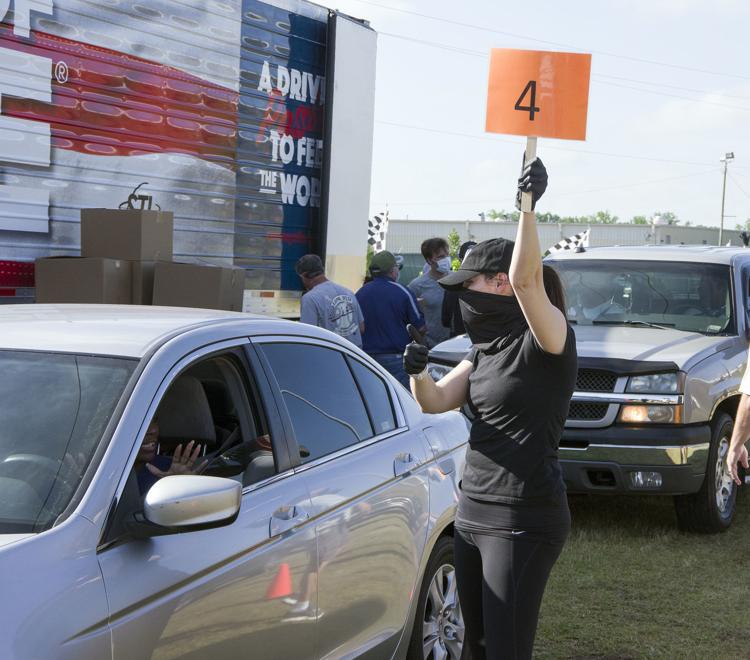 The last group of volunteers on that line signaled thumbs up and English released the cars to the care of two South Carolina state troopers who directed them down Racetrack Road.
The next set of cars moved forward into position and then to the attention of the volunteers.
"We all have masks on and gloved up hoping that just through our eyes the people will know they've been seen and heard and they're cared for and that we're all in this together," Waldron said.
"I think the one thing people need right now is just a little hope and encouragement," Waldron said. "Today we'll pass out groceries, some cleaning supplies, some items for kids. Ultimately it's not a lot of resources but its the hope, and when you look at someone and say we're all in this together i think that's what we need right now."
Usually it is the fans who turn out for the races and their favorite drivers.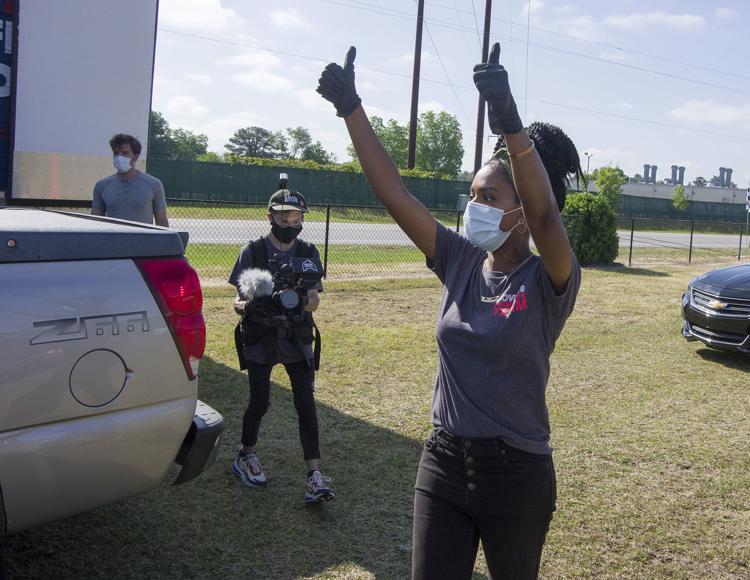 Sunday's race, because of the pandemic, was run without fans in the stands.
"Now, having a race with no fans, it's time for to show up for the fans. That's why we're here," Waldron said.
After 41 minutes the field was empty, for the time being, and English directed her troops to break out, hit the coolers and get water to fight off the rising temperature and humidity.
Such was the morning, though, that the volunteers had barely time to crack the lid on their water before English was back on the megaphone.
"Number two! Number two! You have a car!"