FLORENCE, S.C. — Three people died and a fourth was flown from the scene of a multi-vehicle crash that started on Interstate 95 southbound and ended on U.S. 76 eastbound between Florence and Timmonsville.
The crash, which happened about 11:30 a.m., involved a tractor-trailer, which remained mostly on the interstate, and a car, which ended up on U.S. 76.
The crash happened when the tractor-trailer, which was north-bound, crossed through the median and into the southbound lanes where it hit, head on, a Mazda car and a Toyota truck, said Cpl. Sonny Collins, South Carolina Highway Patrol.
Collins said the investigation hadn't progressed far enough to say which victims were in which vehicles and that more information would be released as the investigation progressed.
After the crash, the trailer from the tractor-trailer dangled, unsupported, off the overpass until firefighters and a recovery crew were able to secure it to a tow truck.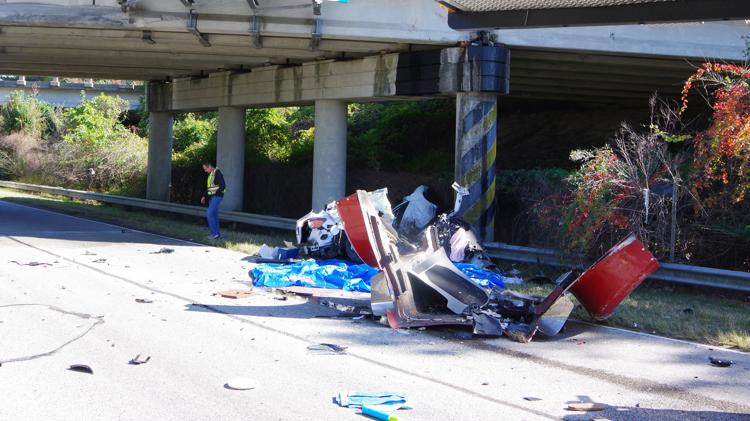 Two of the victims were found on U.S. 76. The third victim and the fourth person were recovered from the interstate.
Florence County Coroner Keith von Lutcken said he would disclose the identity of the victims after families were notified.
Traffic was routed around the crash through Interstate 20, Timmonsville and Honda Way.
West Florence Fire Rescue responded along with Sardis-Timmonsville Fire Department, Timmonsville Rescue Squad, Florence County EMS, Florence County Sheriff's Office, Florence County Coroner's Office South Carolina Highway Patrol, DHEC, SCDOT and Florence County Emergency Management Division.
An official at the scene said the truck's trailer was empty and that the only hazardous material appeared to be diesel fuel leaking from the truck's saddle tanks.
South Carolina Highway Patrol and the Patrol's MAIT team are investigating the crash.