FLORENCE, S.C. — It didn't take long for education to become a topic at state Rep. Wallace H. "Jay" Jordan's town hall meeting Tuesday evening.
Jordan held the town hall at the monthly meeting of the Florence County Republican Party at the Poynor Adult Education Center.
Education was the first topic Jordan discussed before taking questions.
He did, however, make a joke about people attending the meeting for a home-cooked chicken bog meal before the meeting.
"Let me give you a little advice: Willard and Roger, if y'all are handling the meeting next month, apparently folks come out for chicken bog," Jordan said.
Florence County Council Vice Chairman Willard Dorriety is scheduled to speak at the February Republican meeting about the third capital project sales tax. Also attending Tuesday's meeting were Councilmen Roger Poston and Kent Caudle.
Jordan also said he was worried that some people would eat the chicken bog and then leave, something he equated to a church choir member singing and then leaving before the preaching started.
Then, Jordan turned to education.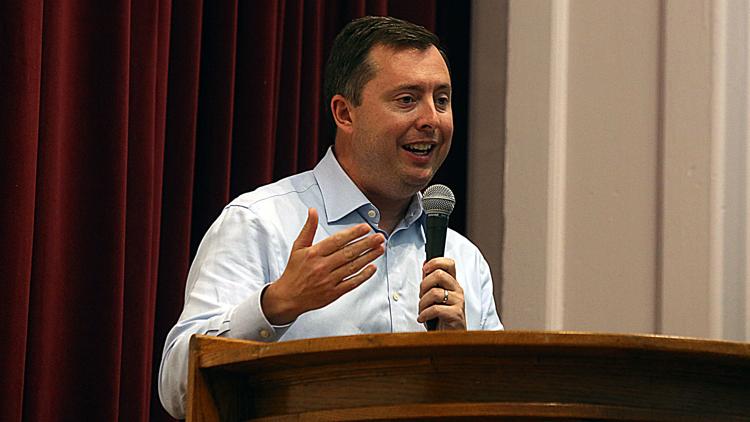 He said the process of education reform had started "really a couple of years ago" and under House Speaker James H. "Jay" Lucas, the House had decided being last in the nation was not acceptable.
"It's not who we are as a state and it's not who we are as a people," Jordan said.
He said he learned a couple of things in Columbia: You can't make everyone happy and big, big problems usually don't start suddenly or end suddenly.
Education, Jordan continued, wasn't simply a money problem.
Still, Jordan said the No. 1 issue the House addressed was teacher pay. He said another teacher pay increase of 7% was on the agenda for the session which would put South Carolina at the top of the Southeast in average teacher salary.
Jordan gave credit to Lucas for raising teacher pay.
He also said that being a teacher was one of the most noble callings and that it would be impossible to pay teachers what they really deserved.
"I've got three kids and I don't like getting locked in a room with them for more than a few hours; I can't imagine all day every day," Jordan joked.
He said the House had worked to reduce the number of standardized tests students must take.
Another issue the legislature must address is an approximate $2 billion surplus in the state budget, Jordan said.
Jordan offered two alternatives to the audience: return the money to the taxpayer or spend it on infrastructure. He estimated the support for either idea at 505-50 in the room.
He explained that the South Carolina Constitution requires the General Assembly to pass a balanced budget — something Washington could learn from and those present could be proud of — and part of that budget is based on projections which are exceeded.
Jordan also added that the state's commitment to financial stability had paid off in economic growth.
Another issue Jordan addressed was a fetal heartbeat bill. He said the Senate had the votes to approve the bill but not to overcome a Democratic filibuster.
The first question of the town hall returned to education.
A woman asked about the "core math" teaching method.
Jordan said he, too, struggled to teach the math to his children.
He then deferred to a teacher in the audience who explained the idea was to teach different concepts to children to avoid using a cookie-cutter approach for every child.
Jordan, a Republican, is the newest member of Florence County's state legislative delegation, having taken office in 2015 after a special election. He was re-elected in 2016 and 2018.
He represents House District 63. The district includes west Florence.
Tuesday's meeting also represented the first meeting at Poynor for the Republicans. They moved locations after the December meeting because they had outgrown their previous meeting location.