FLORENCE, S.C. – Sen. Cory Booker from New Jersey had a story to share before he took questions from the audience Tuesday evening at the Francis Marion University Luther F. Carter Center for Health Sciences in downtown Florence.
Booker, who has been a senator since a 2013 special election, said he was here, as all people are, because of a conspiracy of love, a "whole bunch" of Americans who didn't necessarily share a race or a religion or geography but did sense a common cause in the country.
"In fact, the times that we've done big things in our nation is the times that we've created new American majorities," Booker said. "From women's rights to worker's rights to civil rights, all the things that we've done from going to the moon to building our infrastructure under Eisenhower, all these things happened because of this ability that we had as a nation to come together and lead humanity — even rescue humanity as we did from the Nazis."
Booker said he rejected the Great Man Theory that history is changed by men gathered in places like Washington, D.C.
"No, we didn't get women's rights to vote because a bunch of guys on the Senate floor decided one day, 'You know what fellas, it's time for us to give women the right to vote,'" Booker said. "It happened because of people in communities like this and all over the country."
Ordinary people, he said, who made an extraordinary commitment to a cause they believed in. Booker said who he was and what he's about is really that story.
He said he grew up hearing a story about a conspiracy of love around his family's kitchen table.
"Literally, 50 years ago this summer, my family was trying to move to a really special place — I don't know if you've ever heard of it — called New Jersey," Booker said. "Everytime they showed up in neighborhoods with the best public schools in New Jersey, they would be met be a real estate agent that would see it's a black family and would say, 'Oh, I'm sorry. You can't move in.'"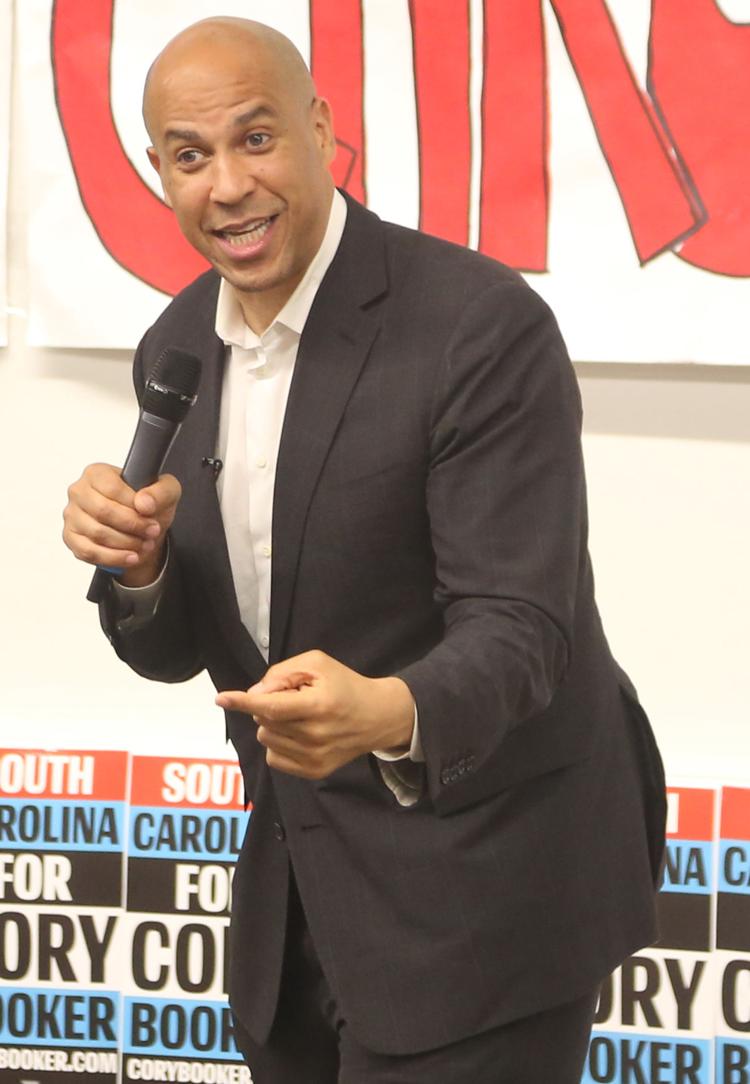 Booker said his parents are from the South. They were among the first black executives at IBM.
He said the real estate agents would lie to his parents about the status of the home they were looking at.
Eventually, he continued, a group of ordinary Americans committed to extraordinary ideas helped them find a home. Booker said he dedicated a chapter of his book to two people in particular: a community organizer and a lawyer who helped him get a house.
The group concocted a plan: have a white family look at the home and agree upon a closing date. Then, have the Bookers show up to the closing.
The plan worked — Booker grew up in Harrington Park, N.J. — but it did have one unintended consequence: When confronted about his behavior, the real estate agent, as Booker's dad told him, punched the lawyer in the face and set a dog on Booker's father.
"That dog got bigger every time he told that story," Booker said.
He graduated from Yale Law School after attending Stanford University on a football scholarship – Booker joked he was a 4.0, 1600 student: 4.0 yards per carry and 1,600 receiving yards — and earning a master's degree. Booker's father then asked him a question about what he had done to help people.
"He said, 'Son, you have more degrees than a thermometer in July,'" Booker said.
Booker resolved to "pay it forward" and became a tenants' rights lawyer in Newark, Nnew Jersey.
Eventually, Booker served on the Newark Municipal Council from 1998-2002 when he ran for mayor instead of seeking re-election.
During his time on the council, Booker staged a hunger strike and lived in a tent to raise awareness about urban development issues in the city.
He was eventually elected mayor of the city in 2007. He served until he was elected to the Senate.
Booker also addressed a number of issues during a nearly hour-long question-and-answer session.
He said it was a lie that the Social Security fund was insolvent.
"It's insolvent because of what we're doing," Booker said. "Before I tell you how we're going to fix it, let me just tell you the truth: There's about 7 million Americans who are trying to live on Social Security, but those checks don't go far enough."
He said it was an American ideal that no one who worked all their lives should have to retire into poverty.
His plan: Eliminate the Social Security tax cap.
Employees are capped at paying just over $7,000 into the fund.
He said the system was just not fair.
The next question Booker was asked was how he was going to put pressure on the South Carolina Department of Education to make education better for teachers and students.
"What we see around this nation is a lot of states devaluing education, disinvesting in education and ultimately privatizing or doing these things that are hurting it," Booker said.
He called those actions unfair, unright and weakening to the system.
His plan includes effectively improving pay for teachers by putting education professionals in a separate tax bracket, increasing the teacher school supply deduction to 100% and forgiving the debt of teachers teaching in public education.
Booker also said he would fully fund special education at the state level.
He told those attending not to give up in the face of gerrymandering and seemingly unwinnable seats in Congress. If everyone in the room donated $1 to a competitive Senate race, it could make the difference between the Democrats winning a majority or not.
If president and the leader of the Democratic Party, Booker said he would invest a 50-state strategy to win elections.
Booker also addressed his decision to be a vegan during the question-and-answer session.
He said it was a personal choice. Back when he played football at Stanford, Booker said, being a vegan made him feel better on the field. Now, he said he wasn't a skinny vegan so it was a personal choice. He added that vegan cupcakes were delicious.
He also attended a closed press event Tuesday with local leaders Tuesday afternoon at Mount Zion AME Church.
Booker declared his candidacy for president on Feb. 1.
He last appeared in Florence as a surrogate for Hillary Clinton on Feb. 25, 2016 at the Cumberland United Methodist Church during the run-up to the 2016 South Carolina Democratic presidential primary between former the secretary of state and Sen. Bernie Sanders from Vermont.
Clinton won the primary with 73.5% of the vote on Feb. 27, 2016. She ultimately lost the general election to Republican Donald Trump both in South Carolina and the nation as a whole.
Sanders is one of Booker's opponents for the 2020 Democratic nomination. He appeared, before he officially announced his campaign, at a Martin Luther King Day event at Mount Zion AME in January. He is currently ranked fourth-most likely, at +700 odds, to be the Democratic nominee according to oddsmakers.
Booker, at +3300 odds, is ninth-most likely.
Three candidates, former Vice President Joe Biden, Sen. Kamala Harris from California, and Sen. Elizabeth Warren from Massachusetts, are tied for most likely at +300 odds.