FLORENCE, S.C. — When temperatures finally fall, later in the fall, children staying at the Courtney McGinnis Graham Community Shelter will have no worries about being cold thanks to a donation Tuesday from Ruiz Cares.
"Our family and our company feel strongly about the need to give back to the community," said Kim Ruiz Beck who was on hand for the donation. "I couldn't be prouder of our Florence team members really embracing our Ruiz Cares program and that's where they volunteer time and treasure to the community, and we support them."
The 45 blankets lay on a table in the office on Tuesday at the shelter, some loose and others in large baggies, headed initially into storage until temperatures drop.
"The partnership with Ruiz Foods has been a real blessing for us. We're excited that we have these blankets for now to give out in December and January when we really can use them," said Julie Maxham with the shelter.
"It's a special opportunity for them to have something beautiful and new and colorful and practical that can just be their own," Maxham said. "They can keep it and cuddle up with it and it's a special thing they can keep for themselves. We can put it on their bed when they check in and they can take it with them when they check out or get their own home."
Ruiz purchased the material for the blankets — fleece — and made it available to its team members in kits that they could take home to use to create blankets out of the materials, Beck said.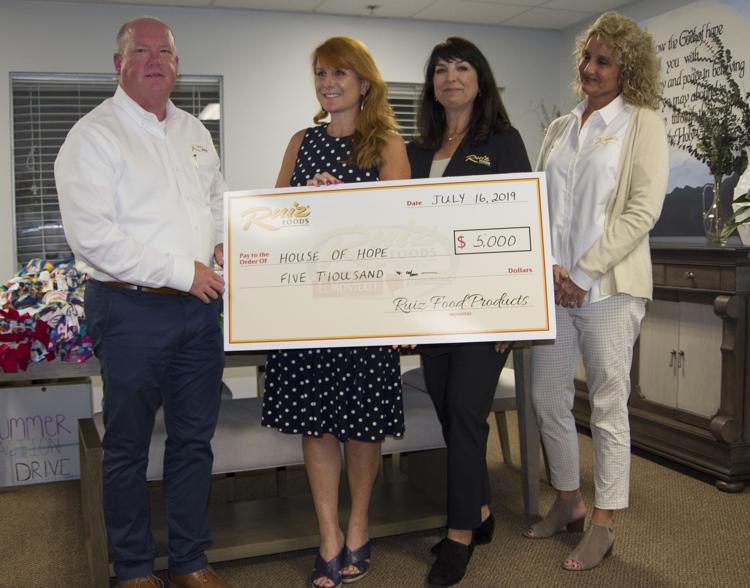 "Hopefully when a child is in a state and they not feeling comfortable and they're in difficult circumstances this gives them a little bit of comfort," Beck said.
Tuesday's donation also included a $5,000 check.