FLORENCE, S.C. – Bees, blossoms and butterflies now line a Briggs Elementary School hallway.
Former students Ava Starnes and Ada Smolen-Morton, who are now sophomores in college, came back to their former elementary school to paint the third- through sixth-grade hall during their summer break this year.
The murals line both sides of the hallway. On one side there are bees, flowers and a honeycomb, and on the other there are butterflies and flowers.
The murals took 85 hours and nearly a month and a half to complete, Starnes said.
Principal Tara Newton said she wanted to have a whimsical mural with bright colors. She said she had the idea for the bees because the school has an observatory beehive.
From the original idea of bees, Starnes and Smolen-Morton came up with the idea to paint honeycombs with the mural.
Starnes, an aspiring elementary art teacher, said working on the mural gave her a new perspective of the school.
"I saw it as a teacher's perspective of appreciating the school for what it is," Starnes said. "Even though it's old, it's still Briggs. It's still home, and I like to be able to contribute my part to that."
Smolen-Morton said she tried to come up with an idea for the mural that included something that she learned during her time at Briggs. Smolen-Morton remembered learning about the life cycle of butterflies and thought that was the perfect mural to paint.
Last year, the two students worked on a smaller mural at the school and were asked to come back this year, Smolen-Morten said. The mural this year is a lot larger than the one they completed last summer, she said.
"It's really cool seeing the transformation, and being able to walk down the halls with both murals on the side and follow along the progression of the butterflies and the bees," Smolen-Morton said.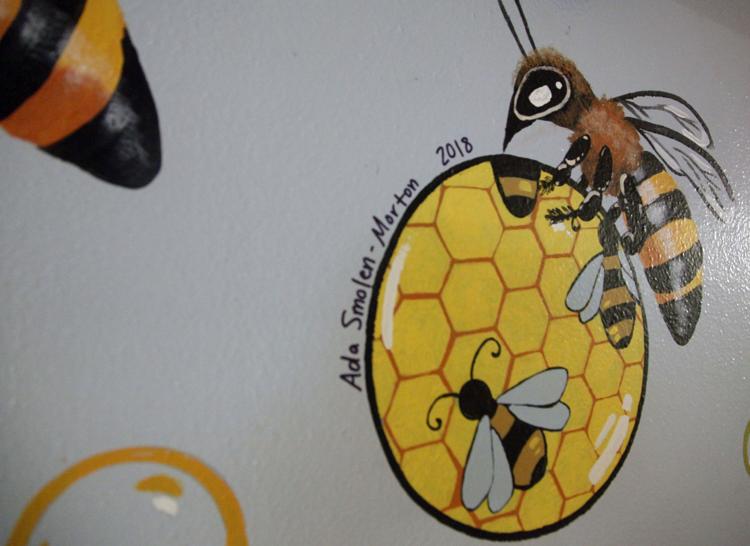 Smolen-Morton and Starnes began painting murals at Briggs last year while they were working at Horizon Summer Art Camp, a summer art camp at Briggs Elementary School. The two came back this summer to continue working on murals.
Newton said Starnes and Smolen-Morton's murals have been her favorites. She also said she wants to expand the project in years to come and hire the two former students each time they are back in town.
"It's a labor of love," Newton said. "They're doing a great job, and I'm super proud of them."