DARLINGTON, S.C. – To say Ina Jean Gough is a race fan might be an understatement.
She has chronicled the history of NASCAR racing through scrapbooking, beginning with the year 1947, even before NASCAR.
"That's the year I was born," she said. "I turned 72 on Aug. 16. That's the same day that Elvis (Presley) died in 1977."
She has collected memorabilia, postcards, photos and newspaper articles pertaining to races and racecar drivers.
She began her first album in 2003 after visiting the Stock Car Hall of Fame Joe Weatherly Museum in Darlington and has since spent countless hours, painstakingly assembling scrapbooks. She is working on her eighth book, which is up to date with the last race.
"I have done scrapbooking since I was a child," she said. "I moved to Darlington in 2001 from Florence. My first race was in 1983 in Darlington."
It was the Southern 500 race on Labor Day, which she attended with friends who had a camper parked in the infield.
"We stood on the top of the camper," she said. "Bobby Allison won."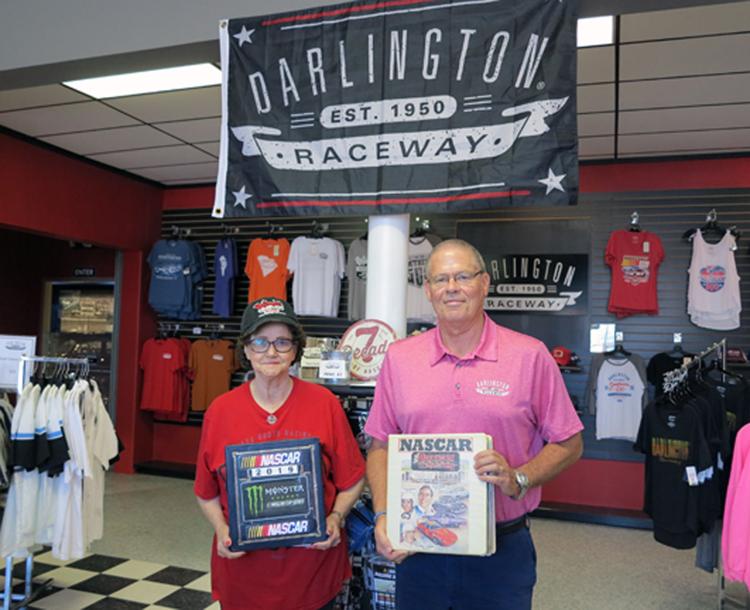 She has been to six others and has her tickets ready for the Southern 500 race next Sunday.
Her favorite driver is Jimmie Johnson, driver of the No. 48.
"I got to meet Jimmie Johnson back in 2017 at the Lowe's in Florence," Gough said.
Asked about the racing slump of late, Gough said, "He is getting more publicity by not winning than the winners."
And you can be sure, she is saving as many articles as she can find on Johnson in her scrapbook.
"These books tell the story of NASCAR racing," she said. "I entertain my friends with them when they come over."
Gough has been a race fan for most of her life and has collected all types of race memorabilia. She has 60 NASCAR shot glasses.
She also collects spoons, thimbles, clown figurines, lions, decorative bells and snow globes.
"I go to yard sales, and friends give them to me," she said.
She also makes and sells race magnets.
Gough said the folks at the Darlington Raceway all know her.
"She is one of the most loyal fans," said Kerry Tharp, president of Darlington Raceway. "She comes by fairly regularly. She is a big fan for sure and always has a smile on her face. She represents loyalty and passion for Darlington."
Gough says she is known as Darlington's most devoted race fan.
"I'm out here (at the museum) once or twice a week," she said.
Gough said she wants to thank Ernestine Hayes for saving the Morning News for her and Nancy Adcock, Tina Rollins and all employees at the Darlington Raceway, and most of all, her son, Paul Allen Galloway, for taking her to the races.
This will be the 70th running of the Southern 500, Tharp said. He said the past winners read like a who's who in NASCAR racing.
He said one thing is for sure that the person who wins this year will have earned it.
The track earned its name: "The Track Too Tough to Tame."
Tharp said ticket sales are trending ahead of last year, and tickets are still available.
"We are going to have a big crowd," he said.
He said the Darlington Raceway's award-winning throwback theme was one of the best moves that this sport had made in a while.
"Everybody bought into it," he said.
He said it has created a lot of energy and enthusiasm.
The way everyone has embraced it is great, he said.
"This is the fifth year," he said. "It is something that is going to last and last and last."
He said it is like going to a reunion, and what better time than Labor Day weekend in Darlington to have a reunion.
"We want it to be a celebration of the past, present and future," he said.