FLORENCE, S.C. – As Hurricane Dorian reached its height Thursday afternoon in Florence County, county leaders were already planning on winding down staffing of the emergency operations center and scheduling shelter closings.
That describes the impact the storm had – or didn't have – on Florence County in a nutshell.
The southern end of the county got the worst of it, which amounted mostly to power outages.
As of 1 p.m. there had been 415 power outages in Florence County, said Dusty Owens, director of the Florence County Emergency Management Division.
"The vast majority of these outages are in the southern end of the county," Owens said during a 2:30 p.m. briefing with county department heads and associated agencies. "That's an issue we kind of lucked out on. We anticipated we might have wider-spread power outages. I don't want to jinx us by saying this; we still have our peak wind period ahead of us, and that number could go up, but as of right now we're looking good."
No major structural damage had been reported from the county, and only a few fallen trees had been reported and removed, Owens said.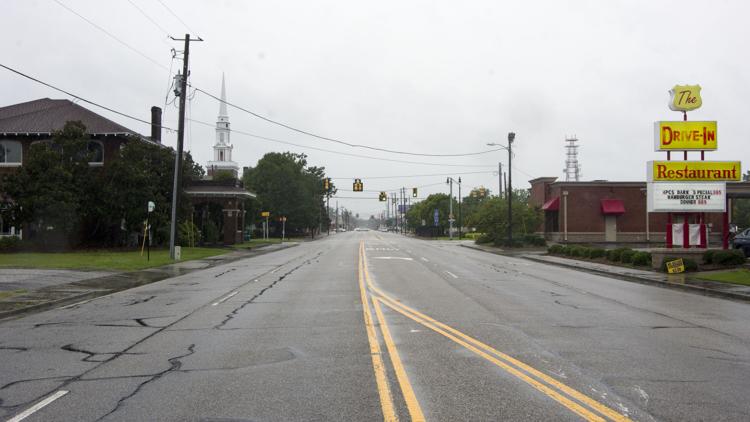 "Rainfall as of noon today in Florence was 2.69 inches and in the Johnsonville area, 4.69 inches," Owens said. "We're moving into a peak wind period, which will equate to a peak rain period. It's likely before this thing moves out of our area late, late tonight we should see those numbers possibly double."
For most of the county, the water won't be a problem.
"Black Creek is really the only water area that could potentially be a problem," Owens said. "It's forecast to reach minor flood stage, which would be 14 feet. If it does reach that level, it's not a major problem." Owens said.
The creek is expected to crest Saturday.
At that level, no homes would be affected, and only a couple of roads would have water on them.
"Lynches River and Pee Dee River are both fine," Owens said. "While they will both take some water, they are well below flood stage and they can handle that water."
As of Thursday afternoon, Owens said, the plan was to close both the county's shelters today: South Florence High School first at 10:30 a.m. and Lake City High School second at 1 p.m.
The Lake City shelter had 14 residents, and the South Florence shelter 30, said Levi James of the Florence County EMD.
Owens said most of them were afraid to be alone in the storm or worried their homes wouldn't stand up to the winds.
Owens said there was no word on a disaster declaration for the county, though the governor's office had requested one.
"If I were a betting man, I would say that we'll be declared for Category B (disaster relief) only, which is emergency work, operations in the EOC, overtime – those things we did to prepare for the storm and our shelter expenses," Owens said. "I don't see anything else being declared. I have been wrong in the past so we'll see."
It didn't go as smoothly for other counties in the Pee Dee.
The Marion County town of Nichols, hard hit in recent years, is expected to flood again, though not to the extent it has in the past.
Based on projections from the River Forecast Center, Nichols probably will see minor to moderate flooding, said Rick Neuherz, a hydrologist with the National Weather Service office in Wilmington, North Carolina.
"Areas that could see minor to moderate flooding include those along River Road and Drowning Creek Drive on the Horry side and along and near Waccamaw Drive and Averette Street in Nichols," Neuherz said Thursday morning. "It's also possible that flooding could occur along Maple Street and Awt Road in Nichols."
It will not be as bad as it has been in the 2015, 2016 and 2018, as river levels are forecast to be at least four feet lower than was seen last year during Hurricane Florence, he said.
Neuherz said the forecast could be a little higher or a little lower based on the actual amount of rainfall the area receives.
"You can see there from that chart graphic by 8 a.m. on Friday it will be well out over the Outerbanks and out of our area," Owens said.
Meanwhile, out in the Atlantic, Tropical Storm Gabriel is not expected to make landfall anywhere and a tropical disturbance several hundred miles east of the Leeward Islands has only a 10 percent chance of development in the next five days.