FLORENCE, S.C. — Senior athletes from a dozen states in addition to South Carolina — which had 33 counties represented — turned out over two weekends for the South Carolina Senior Sports Classic at Francis Marion University and other venues around the Florence area.
The games wrapped up Saturday with competition in bocce ball, horseshoes, basketball, volleyball and cycling.
For two groups of athletes Saturday was a family affair.
"I've been in this game since 1989," said Alice Rembert Walker, 87, of Chester. "I've never missed a game since then. I've been to about 13 national games. I finally won a gold last year in bowling and a silver in Alabama."
Walker was there with her daughter Marlyne Walker, 54, who attended the games with her mother as a helper long before she qualified to compete as an athlete. Walker has two other daughters.
"Each time they got to 50 I brought them down here," Walker said. "Before they were my go-fers. When they get to 50 they can play."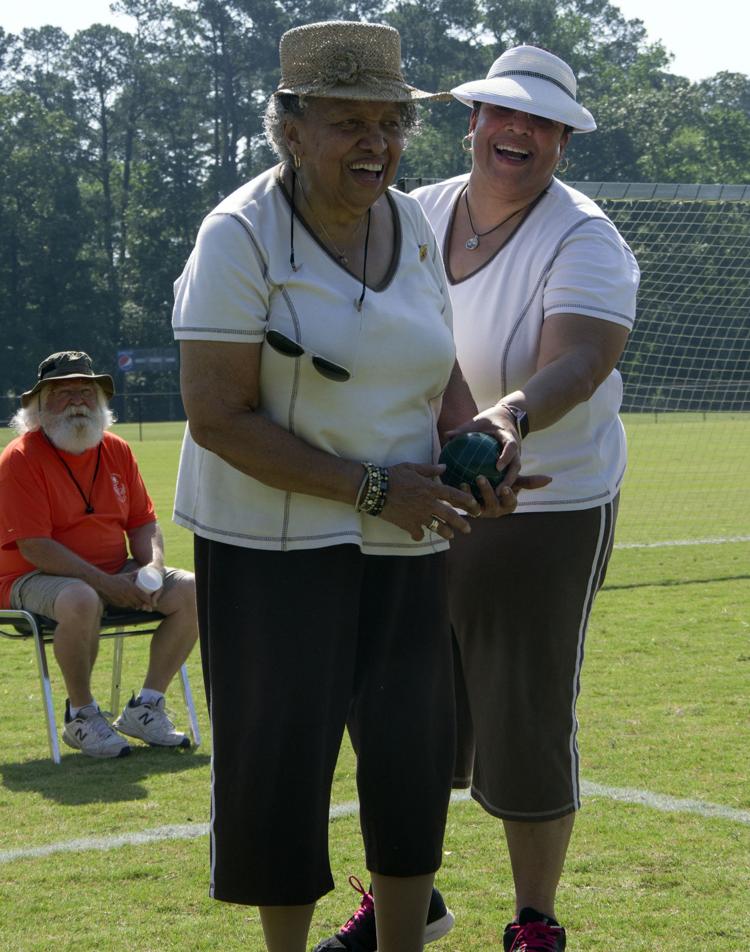 "I started when I was 50," said Marlyne Walker . "I actually came to the game when she first started, not as a volunteer but to see her participate in the game. Later on I started assisting her with what she needed and when I got to 50 she said, 'You have to get into the games.' She encourages everybody to participate and be active."
Since 1989 Alice Walker has experienced more than her fair share of health problems, including two knee replacements and kidney cancer for which one kidney was removed. The kidney surgery happened at such a time she didn't miss a beat and was at the following senior games.
Alice Walker also serves as a deaconess at her church, where she helped start the youth choir, as well as on four different community boards, and works the polls for the Democratic Party. For politics she said she has given up walking neighborhoods, but still carries voter registration documents in her car and pulls up when she sees large groups of people gathered so she can register them to vote.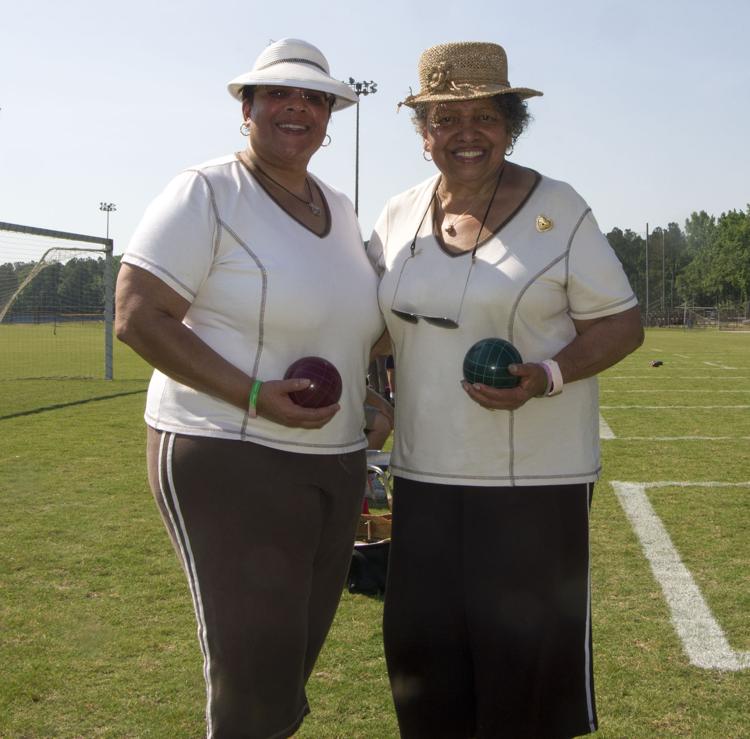 "I just love going places and travel to different places and I love meeting new friends," Alice Walker said. "I just have a good time. Before I was the only one coming from Chester. I didn't know anybody but I met so many friends."
Many of those friends stopped to talk to Alice Walker as she worked her way off the bocce ball field and into Smith University Center to cool off and await her time for the basketball free-throw competition.
Paul Boone, 76, was there with his sons — Marty, 50, and Brandon, who is in his 40s — from Kershaw.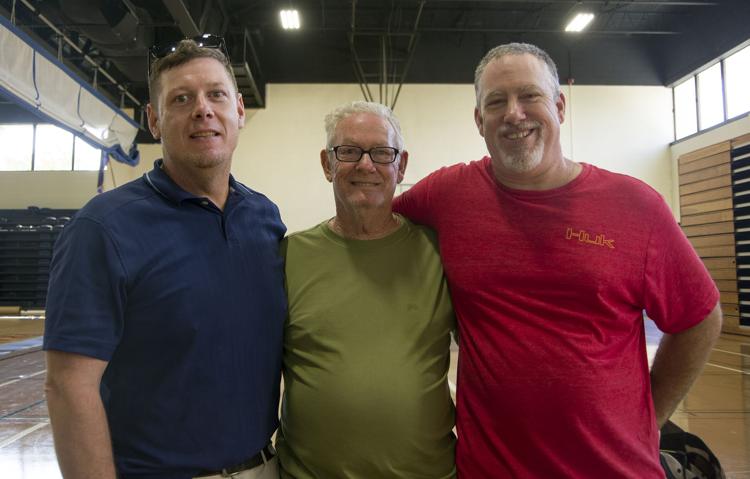 "He's been coming down here for a decade probably," Brandon Boone said. "They opened up the 40- and 50-year-old division and we thought it was just something we do to honor a daddy who is 76. My mom passed away in 2014 so it's kind of like a guy thing."
"Spend some time with him while he's still here," Marty Boone said.
"I've been waiting on him to get 50 and just as soon as he gets 50 they change the rules and let 40-year-olds go and he's 40," Paul Boone said of his two sons at the games. "I finally get to bring them with me one time."
Paul Boone said there is a need to interest younger athletes.
"So many of them last year have died and somebody has to replace them," he said. "It's so much fun coming down here."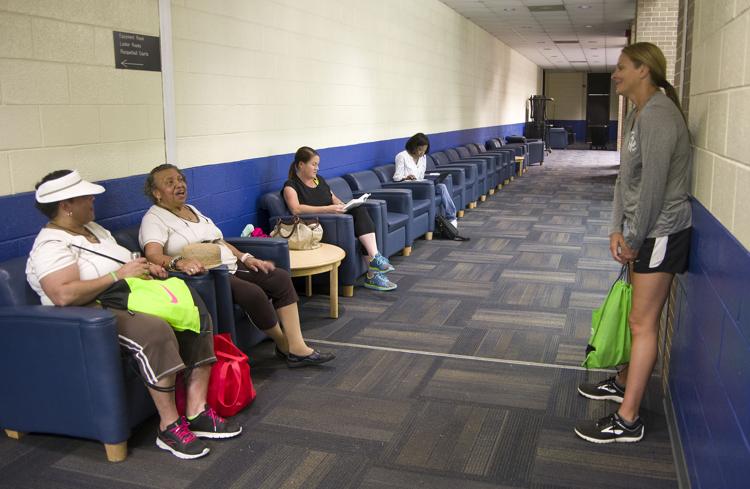 "This is a good little trip for us because we're an hour away. We get to get out of town for a couple of days," Brandon Boone said. "I don't know if we'll end up in Arizona for the nationals but it's a neat trip for us — a guy's getaway for us."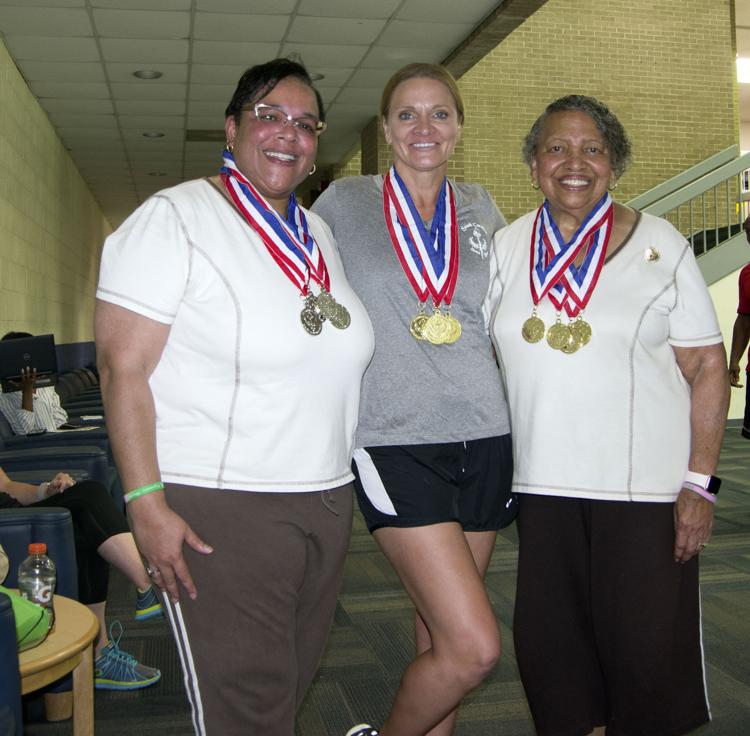 "He wants bragging rights," Brandon said.
"I have a right to be proud. Everybody's complimenting on you," Paul Boone said as he prepared to head off to compete at basketball.
Marlyne Walker enjoyed competing with her mother at the games.
"I think it's great memory," she said. "I think it's really fun. It shows her legacy. It shows me getting old is not bad. It's a great thing you can still be active and health as you get older.
"Some people dread getting old and I don't see it that way. I see people at the game who are in their 90s and they're still active, they're in their right mind."
"I don't know many 87-year-olds who have this much energy or are this active even my age," Marlyne Walker said.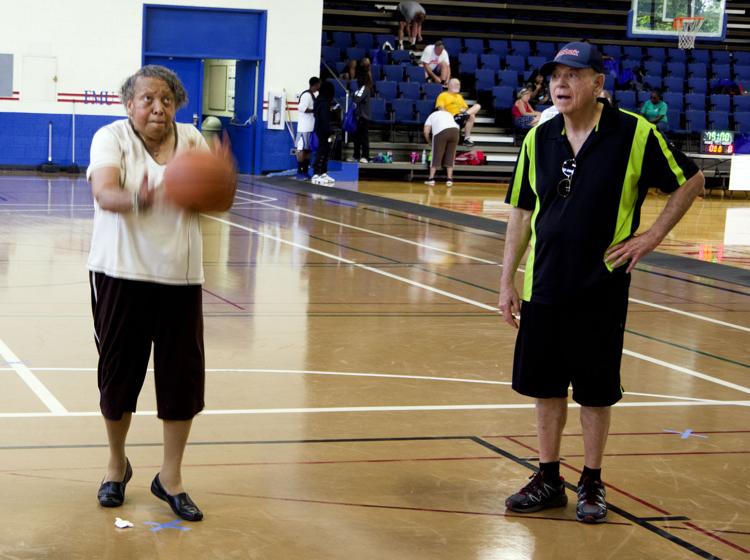 "I just enjoy life and I love people," Alice Walker said. "If you don't use it you lose it."