FLORENCE, S.C. – The cots are everywhere inside the Florence Center.
In the upstairs concourse, beds are laid out on the right and left of the main walking path. The entryways to the arena area have beds laid out behind curtains most likely because there are a lot of windows in the center and some people can't sleep with light shining in their eyes. Downstairs there are two rooms specifically for female line workers and a cafeteria. And inside the main arena, the floor resembles a sea of beds.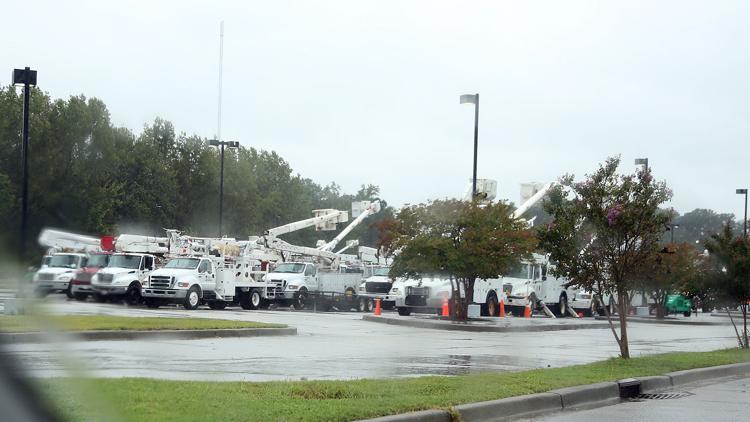 Outside the center, pick-up trucks, pick-ups with boxes and bucket trucks surround most of the center.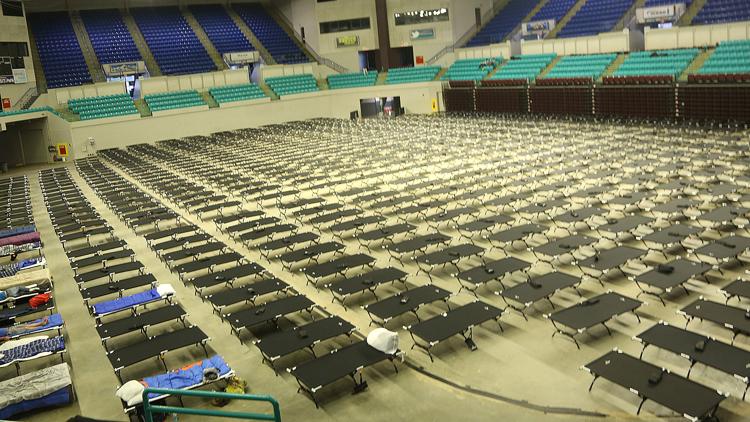 In the entrance near the Florence Veterans Park, several tractor-trailers are set up for the 1,700 workers who temporarily will be calling the Florence Center home. These trucks include refrigerated trucks – Duke Energy supplies its own food through a logistics company contracted for the purpose — and shower facilities. Also, there are some sleeping trailers outside.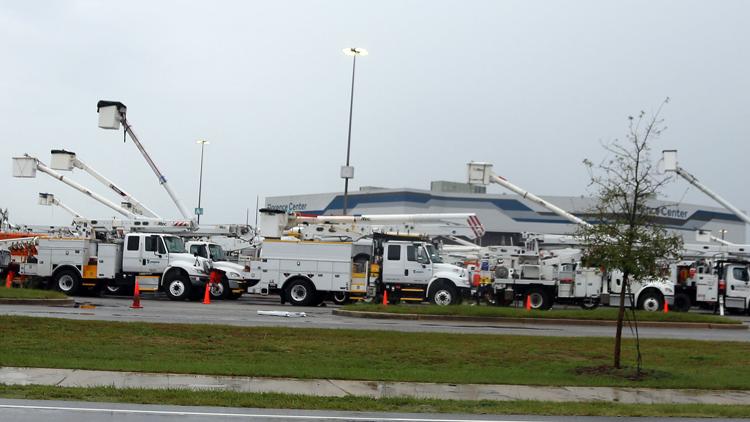 The center is one of the bases set up by Duke to respond to power outages caused by damage from Hurricane Dorian. Florence-Darlington Technical College's Southeastern Institute of Manufacturing and Technology Center is another base.
Florence's location is an ideal location for such operations, as it sits at the intersection of north-south and east-west interstates, Interstates 95 and 20, that facilitate easy access when arriving and to the areas hit hardest by the storm. Several U.S. and state highways nearby facilitate repair access.
Thursday, many of the workers were resting up for what are soon to be 18-hour days restoring power. Many were resting in cots, others were on their phones, enjoying one of the snacks provided, watching the TV set-up in the cafeteria to provide information to the workers, or rolling dice in the hallway.
The cafeteria serves box lunches and a buffet for dinner.
These workers came from around North America to help get the power back on. Some of the workers were from Canada, Texas, Minnesota, Wisconsin, Michigan, Kentucky and Florida. The largest contingent appeared to come from Louisiana.
Duke sent workers to Florida but moved some to Florence because there wasn't as much damage to necessitate all of the crews sent to Florida.
The workers are grouped into crews that perform different restoration jobs.
Once the storm passes, the first crews to leave will be the damage assessment crews, the drivers of the plain pickups. These crews will figure out what's wrong with the power lines in an area and provide the information about needed repairs into a computer system called ROD.
Crew leads from Duke that have familiarity with the area then make the call on what repair crews to deploy to restore power. Some options include tree removal crews and transmission line crews.