FLORENCE, S.C. – The amount of rain the Pee Dee can expect to receive from Hurricane Dorian was increased yet again Thursday morning.
Nichols, hard hit in recent years, is expected to flood again, though not to the extent it has in the past.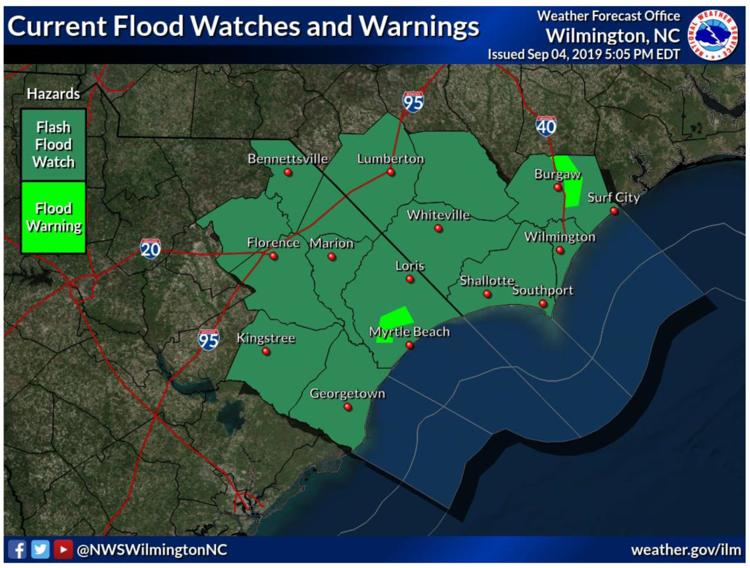 Florence is now forecast to receive more than six inches of rain. Marion and Kingstree are bracing for 6 to 8 inches. Darlington will receive more than four inches. Myrtle Beach is forecast to get 8 to 10 inches of rain. Georgetown could get up to 15 inches.
Based on projections from the River Forecast Center, Nichols probably will see minor to moderate flooding, said Rick Neuherz, a hydrologist with the National Weather Service office in Wilmington, North Carolina.
"Areas that could see minor to moderate flooding include those along River Road and Drowning Creek
Drive on the Horry side and along and near Waccamaw Drive and Averette Street in Nichols," Neuherz said Thursday morning. "It's also possible that flooding could occur along Maple Street and Awt Road in Nichols."
It will not be as bad as it has been in the 2015, 2016 and 2018, as river levels are forecast to be at least four feet lower than was seen last year during Hurricane Florence, he said.
Neuherz said the forecast could be a little higher or a little lower based on the actual amount of rainfall the area receives.
Originally forecast not to flood, Black Creek at Quinby is now forecast to crest Saturday at 14.3 feet, which will cause minor flooding along East Black Creek Road, Creekside Drive and Crooked Creek Drive.
It is forecast to fall out of minor flood stage Monday evening, according to the creek's hydrological website with the National Weather Service.
The Little Pee Dee River at Galivants Ferry is forecast to approach major flood levels by early next week.
Areas closer to the coast saw an increase in the band of rain that is expected to deliver 10 to 15 inches of rain as Hurricane Dorian passes up the coast.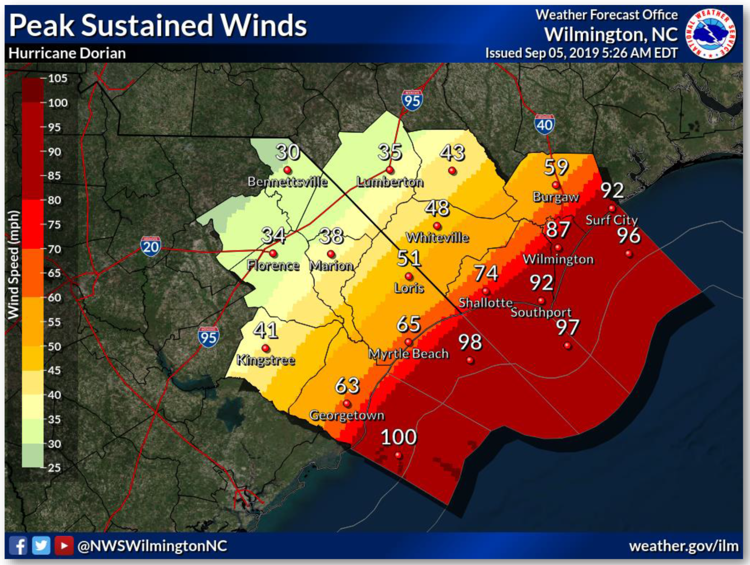 In addition to most of Horry County and all of Georgetown County falling into that band, portions of Marion County, southern Florence County and eastern Williamsburg County are now in that band as well.
On Thursday morning, Florence County Communications broadcast a warning to first responders that a bridge on Friendfield Road near Hyman Road was in danger of being topped by the creek it crossed.
Steve Pfaff, the warning coordination meteorologist with the Wilmington office, cautioned motorists to "turn around and don't drown" if they see water over the road.
Road failures and scours are a danger with flash floods, Pfaff said.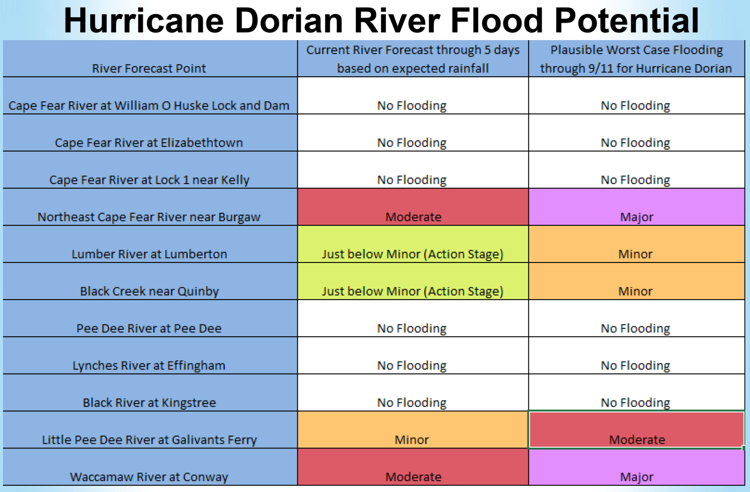 SCDOT reported that it has 485 workers on duty from District 5 (the Pee Dee and Grand Strand) as well as District 4 (a Midlands district), and it was moving to a 24-hour schedule. The crews are working with emergency operations centers throughout the area and expect to respond to downed trees and drainage problems throughout the day, according to a release from the agency.
Florence County Emergency Management Division Director Dusty Owens told county department heads that, based on the Wednesday afternoon Hurricane Dorian update, winds would peak between 5 and 9 p.m., and the impacts of the storm would roll out of the county early Friday morning.
Florence County should expect to experience high winds throughout the day, Owens said.
"Florence County is 805 square miles, so wind speed at one end of the county will be different than it is in others," Owens said.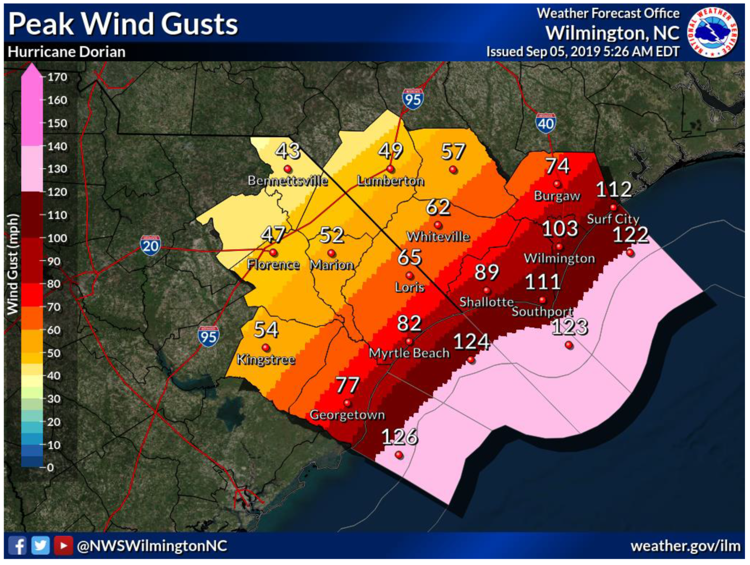 According to the 6:30 a.m. update Thursday from the National Weather Service office in Wilmington, maximum sustained winds will be 34 mph in Florence, 41 mph in Kingstree, 38 mph in Marion and 30 mph in Bennettsville.
Peak gusts are forecast to be 47 mph in Florence, 54 mph in Kingstree, 52 mph in Marion and 43 mph in Bennettsville.
Owens said the county has opened two shelters – one in the northern end of the county (South Florence High School) and one in the southern end (Lake City High School).
"These shelters are not necessary to support the coastal evacuations," Owens said. "In listening to both Horry and Georgetown County speak earlier today, both of them are well below their shelter capacity. Horry County has five shelters open and Georgetown has two, and none of them are anywhere close to being full."
The shelters will be there to support Florence County residents, he said.
The county has made 8,000 sandbags, and the sand with which to fill them is available at the Florence County Law Enforcement Complex.
"We've not seen the volume of people we saw during (Hurricane) Florence. We think that kind of indicates that most of the citizens don't see this as a major flood event or a major flood threat," Owens said.
"I would have to agree that they are correct. Based on the rainfall amounts we saw projected by the National Weather Service and that our streams are below where they normally are, we are in a drought or just coming out of a drought. We will not be fearful of a flood."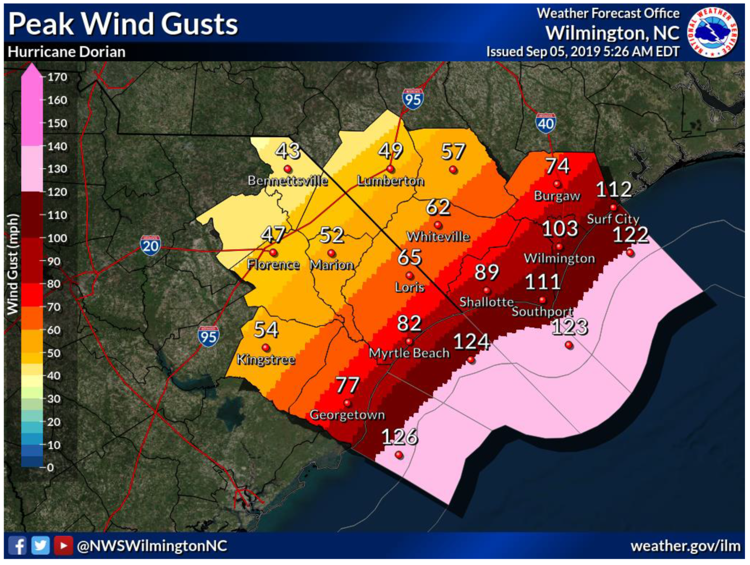 That doesn't preclude flash flood issues where rainfall backs up and causes flash flooding, Owens said.
Duke Energy crews rolled Wednesday into the Florence Center to stage their hurricane response.
An additional 4,000 repair workers from 23 states and Canada have responded to bolster the 5,000 crew members who were already on hand, according to a release from Duke Energy.
The utility expects up to 700,000 power outages in its coverage area before the storm clears the Carolinas.
The Florence Corps of the Salvation Army was activated Friday and told to be prepared to respond.
On Wednesday, the Army responded by delivering 420 meals that went to support the Marion County shelter and to feed EOC workers in Florence and Marion counties, according to Heather Steverson with the Army.
She said the Army left enough supplies on hand that their workers won't have to be out in the storm Thursday.