FLORENCE, S.C. – Florence Police Sgt. Terrence Carraway will be remembered as a man who left the Pee Dee better than he found it.
Carraway was killed Wednesday afternoon in a shooting in the Vintage Place subdivision in west Florence. He was 52 years old.
Carraway was a resident of Darlington and worked for nearly 31 years with the Florence Police Department. Outside of his job as an officer, Carraway was known to have a passion for youth.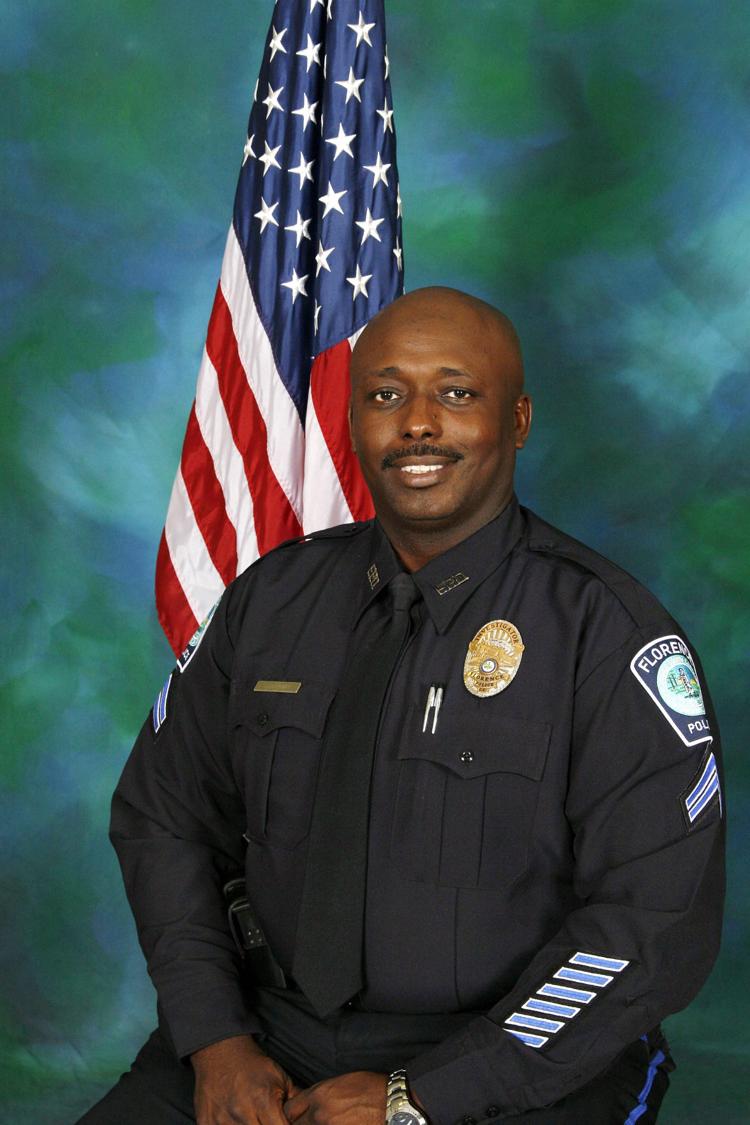 He served as a youth league football coach, swimming coach, referee and mentor for many children across the Pee Dee community.
Florence Chief of Police Allen Heidler said he had known Carraway for his entire career in the department, and the officer had become one of his closest friends.
"This is a tragic loss of life for me, as well as the entire department," Heidler said. "He was the epitome of a community police officer. Terrence loved his community. With more than 30 years, he didn't have to do this job, but this was his life, and this was what he wanted to do. He loved this community."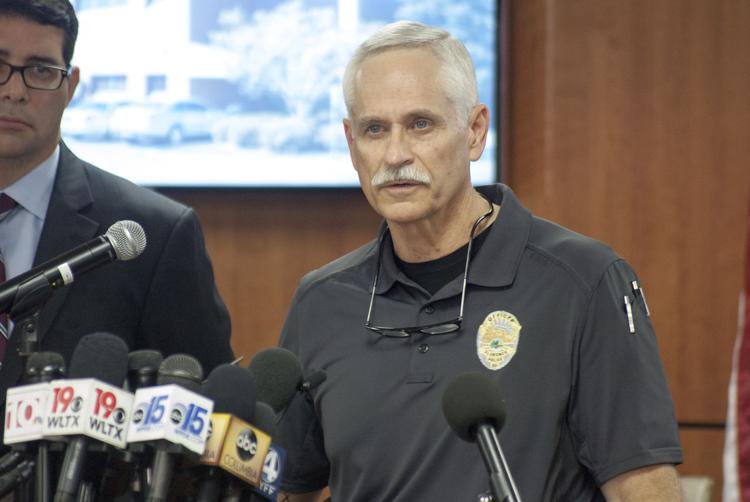 Carraway served as a first-line supervisor and was named the officer of the year in 2004 after being involved in starting "Camp Fever," a camp for disadvantaged kids.
"He had a passion for kids, and it was just inspiring to see his passion for kids in impoverished areas to have opportunities," Heidler said. "This was a man that laughed all the time. He was a giant of a man, but he was the proverbial gentle giant.
Breakfast friend
Florence City Councilwoman Pat Gibson-Hye Moore said Camp Fever saw approximately 100 kids come through in three different sessions each summer. She said Carraway would spend time with the kids and get to know them by name.
"It allowed kids to do something that they never would've gotten a chance to do before," Gibson-Hye Moore said. "They got to do horseback riding, kayaking, canoeing and lots of other fun activities. They also brought in a drug team that did demonstrations with the drug dogs. It gave the kids great meals and you could always find Terrence talking to those kids. Many would open up and tell about the real problems they were going through, and he'd do whatever he could to help."
Gibson-Hye Moore said that she had known Carraway for more than 26 years and that he would frequently stop by to talk to her in the office or even pop in for breakfast at her house every now and then.
"It's going to be so hard for me not to call him," Gibson-Hye Moore said. "Terrence was really a great friend. He'd come over for breakfast sometimes. I don't know what my neighbors used to think when they'd see a police car at my house, but it was just us talking."
"They [the community] wish all the officers were like Terrence. He knew people by name. He wasn't afraid to get out of his car and talk to people. No matter who they were, they loved Terrence. I just want his family to know that I'm very supportive of what they're going through. Any time they need me, they can just call me and I'll be right there, because that's what they would do for me, and that's what Terrence did for the Florence community."
The referee
In addition to his work on the police force and as a coach, people also remembered Carraway for his work as a referee. Carraway was in the midst of serving his first season as a football official for the South Carolina Independent School Association.
The King's Academy football coach Keith Rogers said Carraway even officiated at a couple of the Lions' games on the varsity or junior varsity level.
"When we did our basic introductions, he was a big ol' guy with a big ol' smile on his face," Rogers recalled. "And we just shook hands, and I thought nothing of it."
The following Thursday, however, TKA was broken into. And one of the police officers arriving to take a report was none other than Carraway.
"There he was, decked out in his uniform," Rogers said. "And I was like, 'Wow! I didn't know.' And he just had a smile on his face and was complimentary of our football program and our team. You could just tell by being around him that he wasn't doing this for the money.
"He was out here, because he loved being around the game of football and kids. He just had a good personality with the kids, smiling and laughing and helping them out."
Monday night, after finding out Carraway had been killed in the line of duty, it hit Rogers hard.
"I had a sickness in my stomach because he was just a good guy," he said. "I only experienced meeting him three times, but he made an impression for sure. He left a huge impression."
Social media reaction
Former classmates, family, coworkers and community members have posted on Sgt. Carraway's Facebook page about his character and service to the community.
Many recall him as a big brother, friend and coach.
Stephen Grinkley, of Darlington, posted about how Carraway mentored him when he was a child.
"I remember as a young kid at Friendship Baptist Church how you were one of the men of the church that took an active role in mentoring young knuckleheads like me ... and just having us over to the house to watch football and hang out," Grinkley said in his Facebook post. "Tough to see someone so well respected and distinguished fall in the line of duty like this."
A high school classmate of Carraway's, Rose Floyd Smith, talked about attending Mayo High School with Carraway, graduating in 1984 with him.
"Upon hearing about the attack on our officers (and that is what this was), I was in shock. I was worried for the officers and all of those responding. I was in disbelief. Then came my sadness and anger. I am heartbroken and sick. I have no adequate words. This was a senseless and cowardly act on the shooters part and now because of this so many lives are in turmoil. We have lost a officer in the line of duty and 6 other officers are hurt," Smith said in her Facebook post.
"I knew Terrence Carraway and am proud and thankful I did," she added. "I called him friend. We went to school together, talked and laughed together, graduated high school together. #MayoHighSchool #Classof84 #GoldenBearNation #proudtobeagoldenbear He was a sweet and caring soul with a great smile and laugh. He will be missed, but we must not forget. Today and in the coming days, I will mourn with his family, friends and coworkers. Please pray for all of them. There is so much I would like to say, but it just would not be enough. Please pray for all of all law enforcements and first responders not just here at home but all over. #pray #bluelivesmatter #florencecounty."
Antonio J. Frost credited Carraway with helping him in his Air Force career.
"Came home late tonight to find out you were the Cop Killed today. Something told that you were safe and out of harms way! This one hurt "T-Rex". Thank you for supporting me and my Air Force career over the many years. You told me to stick to it and exceed the years you put in and I plan to do so. Thank you for letting me know countless times that you are proud of me. I will never forget you. Never. #TerranceCarraway #FlorenceSC #843 #SouthCarolina"
Billie Jo Patrick, a former 911 dispatcher, remembered Carraway as a kind, caring officer during her time working with him.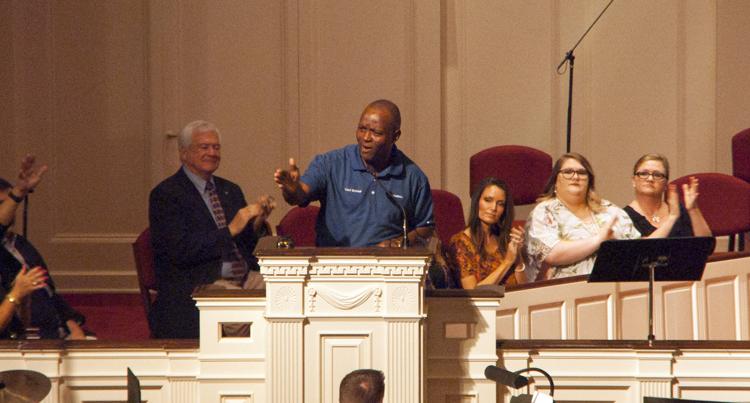 "When we worked night shifts together, we would have small breaks in the craziness he would call in and play us music or sing to us to help us smile," Patrick said. "He always wrote a small encouraging quote for dispatch on his shift schedule. He had a heart for children and done anything he could to help them."
Patrick shared a Facebook with Carraway's encouraging quote from yesterday, "most people are paralyzed by fear. Overcome it and you take charge of your life and your world."
Carraway was a member of Macedonia Baptist Church in Darlington.
-- Morning News reporter Scott Chancey contributed to this report.