HEMINGWAY, S.C. – State Superintendent of Education Molly Spearman says she is proud of the progress made in the Williamsburg County School District.
Spearman spoke Tuesday at a community meeting at Hemingway High School. The meeting was hosted by Williamsburg County School District Superintendent Rose Wilder, who has served in that role since April 2018 when the state Department of Education took over management of the district.
Spearman said the state had to make an emergency declaration in Williamsburg County after trying to work with the school district for about three years on certain issues. The district started with 67 deficiencies and was not in compliance in giving students with special needs the services they were supposed to receive.
"So I'm happy that under the direction of Dr. Wilder and others, our special ed directors, that our special ed program is in compliance," Spearman said.
People who walk into the classrooms will be able to see that they are better equipped and record-keeping is in order, although it once was not, Spearman said.
Williamsburg County School District was also considered high risk, according to Spearman.
"And this talks about, are you in compliance with your federal programs?" Spearman said. "Are you in compliance with money? Is the district being operated efficiently like it should be?"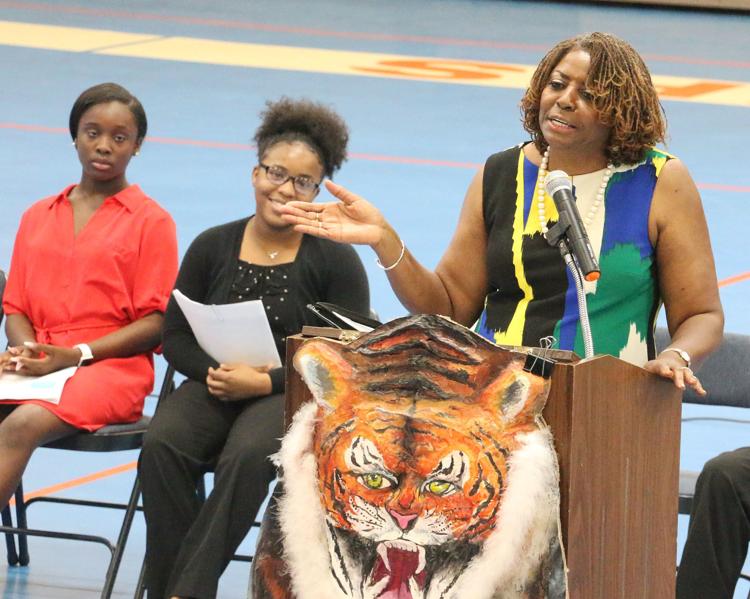 High risk is not something a school district wants to be considered as, but the Williamsburg County School District was at the point a year ago where things were about to go awry, financially, Spearman said. The district is no longer considered high risk, but is back a category and aiming for low risk, Spearman.
Through Wilder's leadership and programming, Williamsburg County School District is spending money appropriately and the school's media centers and libraries have improved with book selections and appropriately-sized furniture, according to Spearman.
Although there have been improvements in the district, there is an area where "we are not doing what we need to be doing for our students, particularly our high school students," Spearman said.
The goal in South Carolina is to have every student ready for college and careers upon graduation from high school. That can be achieved by first finding out what students are interested in and then giving them the educational programs and work opportunities, Spearman said.
Williamsburg County School District has a few career and technical education programs scattered around, Spearman said, but she asks that people focus on what is the best plan to bring higher quality and more opportunities for the students in the county.
According to data presented by Dr. Latoya Dixon, director of the Office for School Transformation, the following percentages show how many of last year's diploma earners were considered ready for college and careers:
>> C.E. Murray High School – 23 percent
>> Hemingway High School – 14.3 percent
>> Kingstree High School – 10 percent
"As a district, only 17 percent of our students are earning (career and technology education) completion. We can do better. There's some things we can do to make that better for them," Dixon said.
A completer is a student who has finished all four courses in a particular career and technology education area and has earned an industry credential, Dixon said.
The state Department of Education suggested Tuesday the following career and technology education enhancements for Williamsburg County School District:
>> Upgrade the following programs by replacing furnishings, trainers, supplies and equipment: HVAC technology, family and consumer sciences, automotive technology, building construction, culinary arts, cosmetology and health science.
>> Upgrade the equipment and add additional workstations in the welding lab.
>> Offer a certified nursing assistant program at Kingstree High School because there are nursing homes that could serve as a prospective business partner for nursing clinical.
>> Create a master schedule that provides adequate instructional time for cosmetology students to get the necessary hours in order to sit for the state licensure exam.
>> Add computer science course offerings at both C.E. Murray and Hemingway middle schools.
>> Determine future course offerings that lead to program completion based on local and regional labor market information in conjunction with student interests.
>> Designate a district career and technology education coordinator to assist with local labor market needs, establishing business partnerships and identify future program implementation.
>> Create a strategic plan for the full implementation of the Project Lead the Way engineering program that includes implementing the Gateway to Technology program at the middle schools.
>> Create a shared cosmetology program due to the current enrollment.
>> Consider merging and increasing career and technology education course offerings at Kingstree High School (if there is space) while offering additional programming at C.E. Murray and Hemingway high schools, contingent upon funding and space to meet the interests and needs of the students.
Spearman said the district cannot afford and does not have enough students to have every career and technology education program at all three high schools. So there are some courses offerings that will have to be centralized.
Transportation will be provided for students who choose to travel to another school in the district for a specific career and technology education course. However, participation is optional and no child will be forced to travel.
"The bottom line is we have got to expand in Williamsburg County more offerings for all students," Spearman said.
She said expanding the program will be a huge focus of the department next year.
Wilder said the district is not closing its career center but is looking at how to maximize what it currently has.