HARTSVILLE, S.C. – Quietly and confidently, John Rogers of Hill Creek Farm in Hartsville walks among his cows.
His boots swish in the lush green grass as his knowing eyes, shaded from the sun under his hat brim, survey each animal. During his daily pasture survey, he looks for any signs of injury or disease and takes in the cow's condition as only a cattleman can.
"A farmer needs to learn to read the cows and know what they need almost better than they do," Rogers said.
Specializing in grass-fed beef, Rogers focuses on giving his animals a healthy and natural life.
"Growing grass-fed beef takes more time, but it is the natural way to raise cattle," Rogers said. "Our animals spend their entire lives on pasture, eating lush South Carolina green grass. This results in meat with more flavor, more nutrition, and a more humane life for the cattle than if they were raised in a feed lot."
All of the Angus and Angus-Charolais beef comes from pasture-raised and grass-fed animals. There are no added hormones, and the meat is antibiotic free. The meat is processed at a United States Department of Agriculture-inspected packing plant, where it is dry aged, cut to order, vacuum packed and flash frozen, Rogers said.
Although he has been raising grass-fed beef for 16 years, that was not always his plan.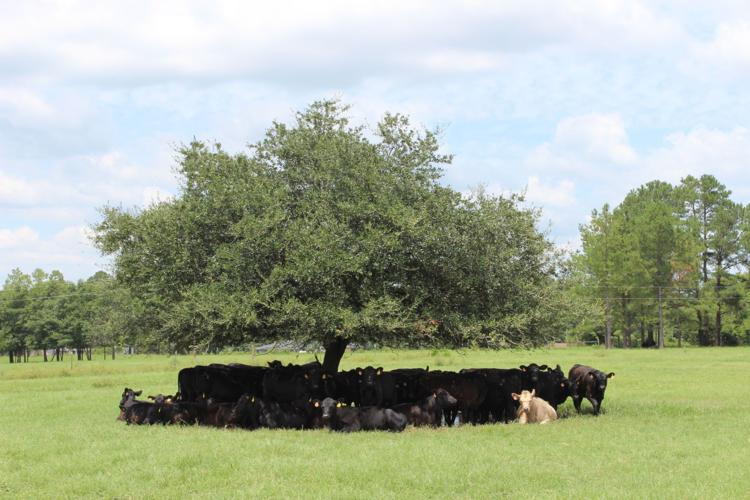 Rogers said he grew up on a dairy farm, and his job was to take care of the calves. Even after his family quit the dairy business when he was 12, they still had a family milk cow that was milked twice a day.
"I said I didn't even want to see a cow after that," he said. "I guess I couldn't stay away from them forever."
In 1975 he started farming row crops with his brother. They also raised conventional beef cows from 1991 to 1998 but had to sell the herd because they needed the money, he said. At the end of 2002, he got out of row crops and started with cows again in 2003.
"I read an article in the Progressive Farmer magazine about a Georgia farmer raising grass-fed beef," Rogers said. "I had been doing it the commercial way, but I liked what I saw about how the animals were raised and the meat they produced."
After selling his first grass-fed beef to a woman in Hartsville, Rogers started selling to restaurants and at farmers markets through Ovis Hill Farm. Now he sells through Maypop Farm, which took over for Ovis Hill, in Florence and Myrtle Beach.
Recently, Rogers has increased his focus on selling directly to consumers. He has increased his presence on Facebook and Instagram in order to reach more people. "It's been great to build relationships with customers and learn more about what kind of product they want," Rogers said. "Most of our customers are health conscious and looking for something they can't find in the grocery store. We get folks with allergies to things like corn who can't eat conventional beef but can eat grass-fed beef. Also, some people want the superior taste. It's rewarding when the customers tell me it's the best meat they've ever eaten."
With more people seeking a healthy and natural meat option, there also seems to be an increase in grass-fed beef producers, Rogers said. Although he sees more farmers trying their hand at raising grass fed beef, not all are able to last.
"Some guys get into it thinking they are going to make a lot of money," Rogers said. "There's so much more goes into it than you see when you drive by a pasture. It takes a lot of investment of land, livestock and equipment and a lot of work growing good grass, keeping the animals healthy and selling the beef.
"The biggest challenge is growing the beef cheap enough to make a profit but still raise the best calf possible. The more you put in it, the better you're going to do."
Although he does a lot himself, Rogers has team of hard workers who help him. Over the years, his wife, Lynn Rogers, has done everything from baling hay to looking after the grandkids. He said Rebecca Cantey has worked part-time for almost eight years helping with tasks including bookkeeping and selling meat. Also, his daughter Laurie Truett has helped at the farm since 2002. She started working full time in March.
"I used to try to do it by myself, but I realized I couldn't, so they have been a big help," Rogers said.
The hard work and long hours can take their toll, but there are also rewards for the life of a farmer, he said.
"It's not easy," Rogers said. "It's seven days a week. I don't get many vacations or days off. I'm not looking for sympathy, because it's what I decided to do, but it's good for folks to remember what it takes. It's worth it, though, because I'm able to feel like I'm doing a good job and treating the cows like they're supposed to be treated."