HARTSVILLE, S.C. — On one Saturday morning of each month, retired librarian Alexa Bartel and her dog, Rosie, visit the Hartsville Memorial Library, where they do their part to encourage children to become lifelong readers.
Rosie, a soon-to-be 10-year-old beagle-basset hound mix, is a trained and certified therapy dog. Since May 2018, Rosie and her human have become monthly regulars at the library for Reading with Rosie, an hour-and-a-half session in which children get to read aloud to the docile doggie.
Bartel is the former library director at Coker University (then Coker College).
"This is something I've wanted to do since I retired (in 2016)," Bartel said.
"I've always been interested in children's literacy," she said. Bartel said she sees the reading sessions with Rosie as one way to help spark a love of reading in the children who participate in the program.
Reading with Rosie is designed for children from ages 5 to 12. Some start a bit younger, Bartel said. The program seeks to give children who may not be comfortable reading aloud to others opportunities that allow them to read in a relaxed environment without an audience other than Rosie and Bartel.
Many of the children who come to read to Rosie lack confidence in their reading skills and are shy about reading in front of others, Bartel said. "A lot of these children are primarily reluctant readers," she said.
Giving them a chance to read to Rosie helps them build confidence in their reading ability and overcome that reluctance, she said. "They know she's not going to judge them," Bartel said. "They can read to Rosie and not feel any pressure. Rosie's not going to ask them about what they read or correct them if they read something incorrectly or mispronounce something."
Rosie's gentle disposition puts the children at ease, Bartel said. "A lot of them just like to pet her," she said.
"With the children, it's so sweet to hear them read to her," Bartel said. Sometimes the younger children like to look at pictures in books and tell Rosie stories they make up based on the pictures, she said.
The visits also give the children the chance to interact with a dog, Bartel said, something a lot of them may not have at home. And Bartel said she enjoys being able to share Rosie with the children.
"I try to be conscious of the fact that some people aren't comfortable around dogs," Bartel said. "I don't push children to interact with Rosie. It's a good opportunity for a parent to encourage their child to interact with a pet, to get to know a pet."
Rosie likes it, too. "Rosie does look forward to it. She likes the attention," Bartel said.
"Rosie does well at the library," Bartel said. "The children come in just a few at the time and she does really well with them." Rosie works best with children one-on-one or in small groups, she said.
Kristi Jeffords, children's librarian at the Hartsville library, said Reading with Rosie is a welcome addition to the library's children's programs. "It's a fantastic program and it's growing really well," Jeffords said. "It's great for children who may be shy about reading in front of people or worried about being corrected in front of others."
Bartel said she and her late husband, Charles, got Rosie as a puppy from the Darlington County Animal Shelter in the spring of 2010. They wanted a puppy smaller than their cats, Jake and Elwood, she said. The cats helped raise Rosie, Bartel said. "They were bigger than she was," she said.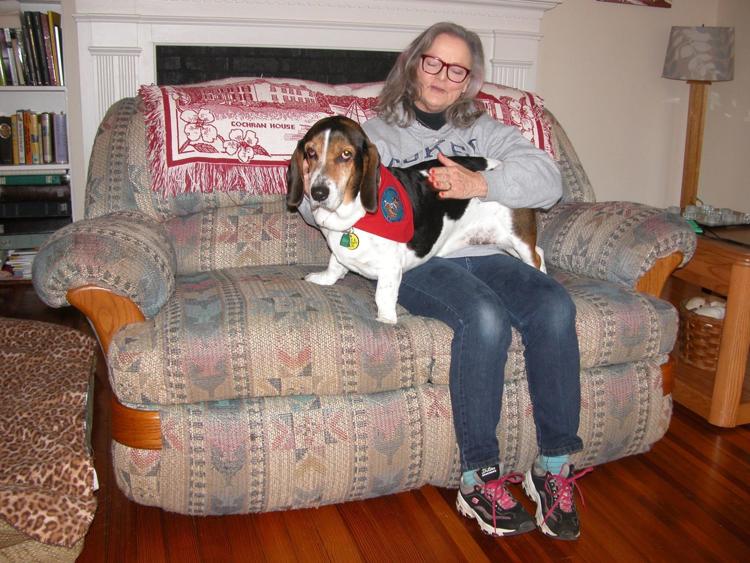 Bartel said she knew early on that Rosie had the disposition to be a therapy dog. But Rosie needed a little help developing her therapy skills.
She said Rosie had to pass a rigorous test to be certified as a therapy dog by Therapy Dogs International, an organization that tests and registers therapy dogs. She said she learned of the organization from Margi Moore of Florence who has been affiliated with Therapy Dogs International for a number of years.
After Rosie failed to pass the test on her initial attempts, Bartel and Rosie completed a class recommended by Moore. The next time she was tested Rosie passed. "She was kind of a late bloomer," Bartel said.
Reading with Rosie sessions take place at the library usually on the third Saturday of each month from 10:30 a.m. to noon, according to Jeffords. Parents are encouraged to schedule appointments but walk-ins are also welcome as long as they don't mind waiting a bit, Jeffords said. Sessions usually last about 15 minutes.
Jeffords said Bartel and Rosie are the right combination to make Reading with Rosie work. "I adore both of them," she said.
"Alexa is great with the kids. She's real good about knowing when they've been reading long enough or when one may need a little more time to read," Jeffords said.
"She (Bartel) is really the facilitator. Rosie's the star."