I enjoyed reading in the Morning News recently about the 50th anniversary of the Apollo 11 moon landing in July 1969. It brought back memories of watching that monumental moment with my family "back in the day." I was 5 years old, standing open-mouthed in front of our little black and white television, eye to eye with that now iconic grainy image of astronauts Aldrin and Armstrong planting the U.S. flag on the lunar landscape.
In honor of the first moonwalk, today's gardening column is all about moon flowers. There are two easy-to-grow garden flowers that go by this name, and they both have large white blooms that open in the evening. I hope you will have a chance to plant one or both of these night-blooming beauties, as they will leave a lasting footprint in the garden of your memories.
The first of these moon flowers, known as devil's trumpet ( Datura metel ), is a tender perennial plant with large, trumpet-shaped white flowers. It is often grown as an annual, but is winter hardy in our area (USDA hardiness zone 8a).
Moonflower is a large sprawling plant with medium-sized leaves that is widely cultivated and naturalized throughout most of the world's tropical and subtropical regions.
A word of caution is in order: All parts of this plant are poisonous to humans and animals.
It can be easily grown from seed once the soil has warmed up in early summer and all danger of frost has passed.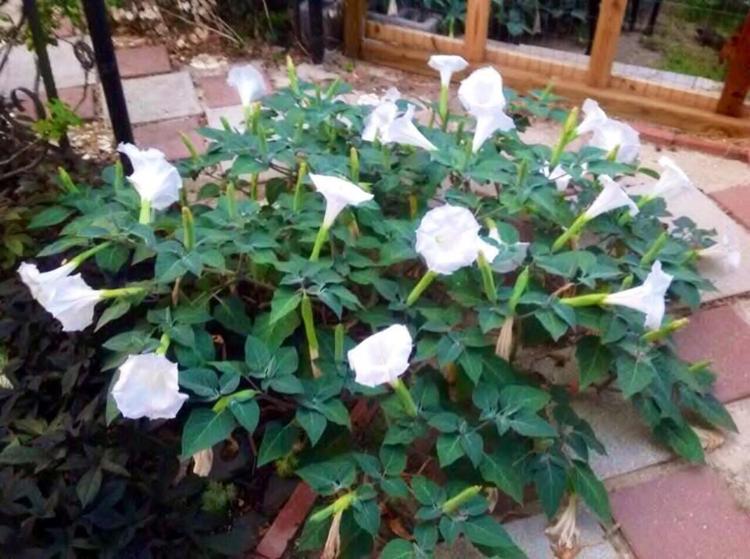 The moonflower bud sits upright on the plant and elongates as the neatly folded yellowish petals begin to unfurl in the afternoon. The flower turns white, unrolls gradually, then opens into an upward-facing white trumpet (in contrast to the closely related angel's trumpets, which face down).
Along with tomatoes, peppers, eggplants, potatoes and tobacco, moonflower is a member of the nightshade family. The foliage is consumed by hornworms and the resulting adult night-flying hawk moths sip nectar from the flowers. In the evening, these hummingbird-like moths zoom so quickly around the flowers that I have nick-named mine "Buzz Aldrin."
In addition to enjoying the moon flowers or devil's trumpets every evening, the hawkmoths also visit the flowers of the moon vine ( Ipomoea alba ). This lovely annual vine has fragrant white 4- to 6-inch flowers from July to October.
The twining plants have deep green, heart-shaped leaves that will grow up to 15 feet high on a trellis, pole or bamboo teepee. The plants are grown much like morning glories, to which they are closely related, but the flowers open in the evening rather than in the morning. Moon vines should be sited in full sun, in moist, well-drained soil.
And just like the Apollo 11 astronauts took a sample of that powdery "moondust" soil from the lunar surface, you should gather a little soil from your and have it tested before planting a garden. Directions can be found in our "Soil Testing" fact sheet from the Clemson Extension Home and Garden Information Center at https://hgic.clemson.edu/factsheet/soil-testing/.
Trish DeHond is the home horticulture agent and Master Gardener coordinator for Clemson Extension in Darlington and Florence counties. She can be reached by email at pdehond@clemson.edu