FLORENCE, S.C. — West Florence athletic director Greg Johnson admits he is prone to making lists while embarking on projects.
This is certainly a project worthy of a list.
But he appeared calm and prepared while talking about the Knights' first on-campus football game 7:30 p.m. today against Socastee.
"It's a challenge in that it's never been done, so there are so many things to be thought about," Johnson said. "Obviously you bring in things like bleachers and portable restrooms and decide where we are going to take tickets up. But it's fun in that it's historic.
"We've been in the planning of this since April," he added. "We've had plenty of time to prepare."
Thursday morning, Johnson and Knights football coach Jody Jenerette were lining the Knights' on-campus field and painting in the giant "WF" at the 50-yard line. And there were the additional bleachers, which bring to mind perhaps the game's biggest challenge: having enough seats for the fans.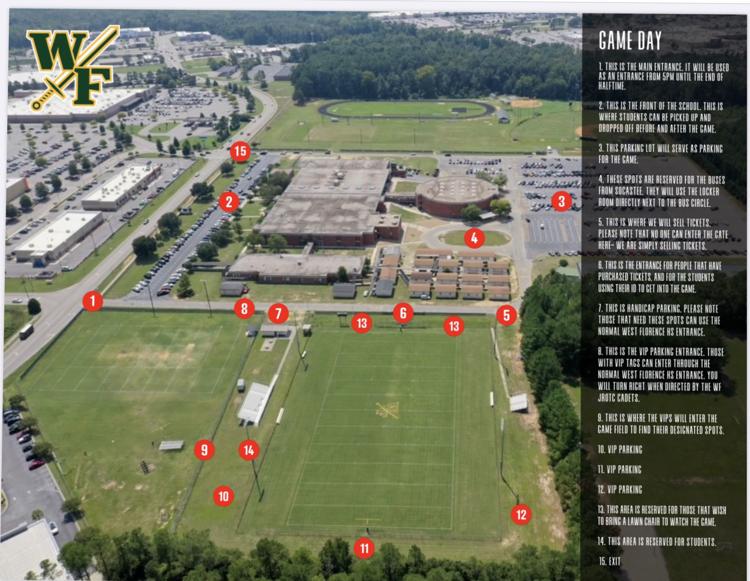 "I think the biggest challenge is finding everyone a place to sit," Johnson said. "We've got to make sure we've got enough parking and places to use the restroom and logistical stuff like that. We even had to determine which end we are going to run out of."
According to Johnson, 10 extra sets of bleachers will be at tonight's game. And they came from other parts of campus.
"They came from places like the baseball field, track, tennis court, softball field," Johnson said. "And one of our boosters, Harry Cook, did an amazing job by making us a trailer to attach to a tractor, and he moved the bleachers pretty easily with that."
Johnson said there will also be VIP parking and handicapped parking. He added there will also be an area where fans can bring their lawn chairs to sit and watch the game.
"Obviously, seating will be an issue, but we're trying to make it as good as we can," Johnson said. "It's obviously not going to be perfect. It's the first time, so there will be hiccups."
But they will also be learning experiences if something like this is attempted again next year.
Johnson added he is not sure what an estimated capacity figure could be.
"I don't have an idea, but I hope that's a problem we have to deal with on Friday night," Johnson said. "That would mean we had an amazing crowd."
Johnson also said, in addition to the field's regular restroom, five portable restrooms will be added. And there will be mobile concession stands for fans to buy refreshments.
As for the field decorations, the "WF" logo at midfield won't be the only one. The word "West" will be also painted in both end zones.
"I hope our kids are excited to see 'West' in the end zones," Johnson said. "That's something they've never played on. To me, it's fun for this senior class to be able to say, 'I was there for the first time West Florence ever played at home.' And it will also be special for the band, the cheerleaders."
Johnson added there will be a section of the stands set apart to let fans know before the game that it is reserved for the band members.
One challenge away from putting the field together — as it was at Wilson and South Florence before they hosted their on-campus games earlier this season — was making people believe this was actually happening on campus instead of at Memorial Stadium.
"One of our students even refers to this game as the 'home-home game,'" Johnson said with a laugh.
The Knights will also have three honorary captains tonight: Former Knights coaches Bob Kleinknecht (baseball) and Charlie Nelson (boys' tennis) and current boys' soccer coach Billy Andrews.
"What a way to do it, having these coaches with at least 500 wins each," Johnson said. "That's going to be very cool, to me."
Johnson then talked about the added interest from alumni that will come to the on-campus game.
"I heard often they'd love to see us play, but they didn't want to drive (to Memorial)," Johnson said. "So, we wanted to bring the show to them. We've played J.V. football on this field for a long time. We've played soccer on this field for a long time.
"I don't want to say ours was easier to set up, but we have good real estate for lack of a better term," he added. "I think this lends itself well. I think it's the kind of thing that we could do here."