FLORENCE, S.C. — There was a collective holding of breath in the second quarter of Thursday's SCACS 2A state playoff game when Maranatha Christian's Sarah Atkinson fell to the floor grabbing her ankle.
"She kind of got it rolled up on," Bulldogs coach Emily Edwards said afterward. "We got it taped up, but it'll probably hurt tomorrow when she gets out of bed."
Fortunately for Maranatha, it didn't seem to affect her play much the rest of the game — and she'll have plenty of time to rest it.
Atkinson poured in a game-high 18 points, and the Bulldogs used two runs in the second half to pull away from Grace Christian for a 44-41 victory and a spot in next week's state tournament.
The semifinals and finals will be held at Grace Christian in West Columbia starting on Feb. 21. The Bulldogs will play the Lake Pointe/Hampton Park winner at 1:15 p.m.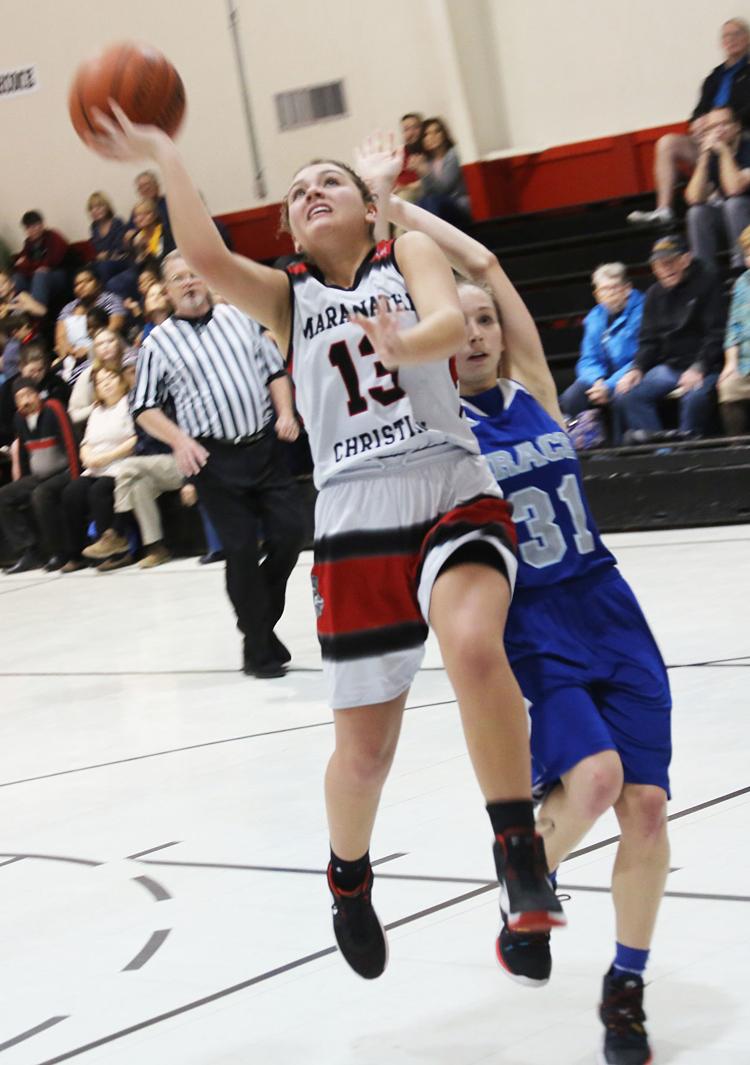 "The runs and hitting jump shots," Edwards said of her squad's keys to the big victory. "They've got a pretty good defense, so we had to hit shots. We knocked a couple ones down there and kind of sealed the deal."
Maranatha led just 17-16 at the break and was up 26-24 when an 8-0 run in the third quarter finally gave the Bulldogs some breathing room. Atkinson had five points during that stretch, including a three-pointer.
Atkinson also helped spark MC's run in the fourth quarter. Up 36-32, she stole the ball and put it in for a quick six-point lead. Carson Reel got a rebound and putback moments later followed by Atkinson's two free throws and Kelsie Daniel's bucket as the Bulldogs rebuilt a 10-point advantage.
"They kind of pulled it together," Edwards said. "It's a young group — I've got six freshmen on varsity and three of them start, and it was just about trying to settle them into the game. We had a nice talk at halftime and they were ready to go at the start of the third quarter."
Daniel finished with 10 points for the Bulldogs and Reel added eight. Gracen Davis followed with seven points and was a force on the boards, finishing with double-digit rebounds.
The Bulldogs also hit key three-pointers during the game. Davis and Daniel each connected to start the game and Maranatha sank four altogether.
"This team is extremely resilient," Edwards said. "We've only lost to two teams all year. They're pretty good once they get their feet wet. When we get (to Columbia), it's going to be challenging. We're going to play the best teams we've faced all year.
"So we've got a lot of preparation to do next week. But I'm pretty confident in their resiliency."
Kristen Hamilton scored 17 points to lead the Lions followed by Keagan Yarborough with 14.
GC 2 14 12 13 — 41
MC 6 11 17 10 — 44
GRACE CHRISTIAN (41)
Kirsten Hamilton 17, Keagan Yarborough 14, A. Cropsey 4, Byrd 2.
MARANATHA CHRISTIAN (44)
Sarah Atkinson 18, Kelsie Daniel 10, Reel 8, Davis 7, Lambert 1.
RECORD: MC 12-2
NEXT GAME: The Bulldogs will play the Lake Pointe/Hampton Park winner at 1:15 p.m. on Feb. 21 at Grace Christian School in West Columbia.