FLORENCE, S.C. — On Monday, coach Jody Jenerette had a heart-to-heart with his West Florence defense.
The Knights had taken their of lumps during a three-game losing streak — giving up at least 31 points each time, and a change was needed.
"We changed some things around in terms of some things we were doing from an alignment standpoint," Jenerette said. "The kids came out and played well, and responded really well to coaching."
West Florence's defense rebounded with smothering performance against St. James on Thursday at Memorial Stadium by forcing three turnovers in a 42-14 rout.
West improves to 4-3 overall and 1-1 in Region 6-5A. The Knights will host their first on-campus game next Friday when they face off against Socastee.
"Just can't say enough about the way our kids responded to coaching this week," Jenerette said. "They've got a really good running back (Malachi Butler) and we were able to shut him down for the most part.
"What we did shows we've got a chance to be pretty good."
The Sharks ran just five offensive plays in the first quarter and didn't have a first down until their third possession. They only had three first downs in the first half, and the only score came following a late defensive breakdown.
Meanwhile the West Florence offense showed its balance early. Quarterback Hale Emerson threw for 115 yards and two scores in the first half while running back Terry McKithen ran for 158 first-half yards and two more touchdowns.
McKithen finished with 206 yards rushing and three TDs and Emerson threw for 222 yards total.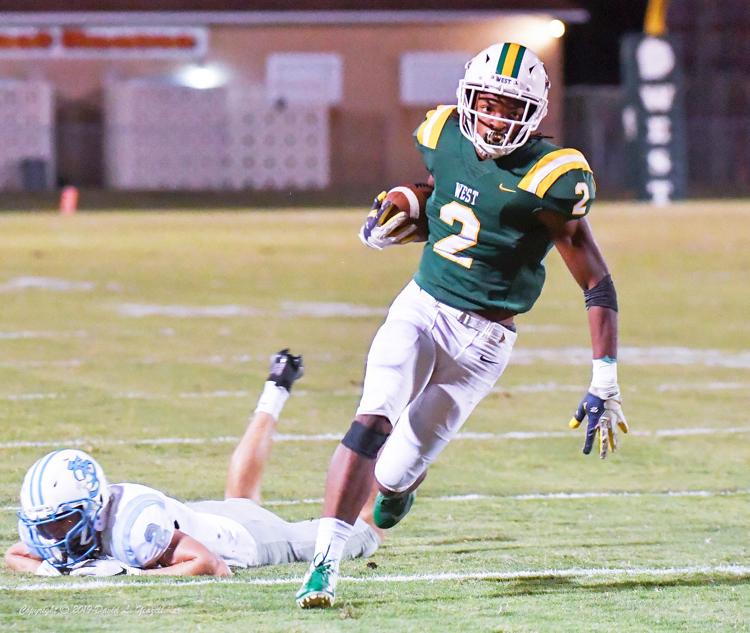 "They walked up in our faces a little bit, so we threw a lot of quick (passes) tonight to take some pressure off the offensive line," Jenerette said. "Hale did a good job, Terry did a good job and I think everybody did a good job. We've just got to get back to work on Monday."
The game shifted squarely in West's favor in the second quarter after a pair of Shark turnovers and a big play on special teams gave the Knights a four-touchdown lead entering the break.
WFHS led 14-0 when Emerson was picked off on his own 28-yard line. The Knights responded on defense by forcing the first of two fumbles, and Emerson found his brother Wyatt soon after for a 57-yard hookup to put West up 21-0.
Another fumble on St. James' next drive led to McKithen's second TD run of the night and a 28-0 WFHS advantage. But St. James cut it to three scores with a big run from Butler and a touchdown pass from quarterback Ethan White.
Chris Brigman negated any momentum the Sharks might have gotten, however, by returning the ensuing kickoff 80 yards for a score on the final play of the half.
McKithen added another TD run in the third quarter to complete the scoring for the Knights.
Tikyse Miller and Semaj Johnson each recovered a fumble for West while Nyke Johnson came away with an interception. Johnson also caught a 34-yard pass from Hale Emerson for a score in the first quarter.
Butler had the other touchdown for the Sharks on a 7-yard run in the third quarter.
SJ 0 7 7 0 — 14
WF 7 28 7 0 — 42
FIRST QUARTER
WF — Nyke Johnson 34 pass from Hale Emerson (Steven Snell kick), 7:01.
SECOND QUARTER
WF — Terry McKithen 9 run (Snell kick), 11:16.
WF — Wyatt Emerson 57 pass from Hale Emerson (Snell kick), 3:55.
WF — McKithen 2 run (Snell kick), :39.
SJ — Jimmy Burke 12 pass from Ethan White (Jackson Sullivan kick good), :06.6.
WF — Chris Brigman 80 kickoff return (Snell kick), 0:00.
THIRD QUARTER
SJ — Malachi Butler 7 run (Sullivan kick), 5:30.
WF — McKithen 2 run (Snell kick), :34.9.
INDIVIDUAL STATISTICS
RUSHING – SJ: Malachi Butler 18-103, TD; Ethan White 4-13; Deondray Stanfield 2-8. WF: Terry McKithen 28-206, 3 TDs; Hale Emerson 5-18; Seth Giordano 2-12; Nyke Johnson 1(-2); Dylan Snyder 1-15; Jalen Williamson 2-16.
PASSING – SJ: Ethan White 8-15-53, TD, INT. WF: Hale Emerson 13-20-222, TD, INT
RECEIVING – SJ: Deondray Stanfield 3-18; Garrett Smith 2-23; Jimmy Burke 1-12, TD; Malachi Butler 1-0. WF: Chris Brigman 3-30; Terry McKithen 3-72; Dylan Snyder 1-15; Seth Giordano 3-13; Nyke Johnson 2-42, TD.