Meggie Baker is no stranger to the Florence Little Theatre stage.
Her first show? "'The King and I.' I was 9-ish," Baker said. That was 1993.
Over the past couple of decades, Baker has appeared in a number of shows ... so many that she's lost count off the top of her head.
"I've done at least 20," she said, adding, "Maybe more!"
She said picking her favorite show is "really difficult, but 'Legally Blonde' (from 2013) is definitely up there! It was such a fun show with a great group of people. We still talk about it even now."
Baker also recently performed what she says is her favorite role in 2017's "The Game's Afoot."
"Daria Chase. Besides getting the chance to work with a great cast during the show, it was really fun to have a chance to be a villain on stage!" she said. "It was rather gratifying when people would tell me after the show that they were glad I died."
Baker even won the Irving Award — a "best-in-show" prize as voted by FLT Guild members — for her performance.
But now, Baker is taking the reins and directing her first show, Noël Coward's classic comedy "Blithe Spirit." The show opens at 7:30 p.m. Friday.
Florence Little Theatre last produced the show in 1983, the year Baker was born.
The play, in Baker's words, is the story of "Mr. and Mrs. Condomine, (who) invite a medium to their English country home to perform a seance for them and another couple. The medium ends up conjuring up Mr. Condomine's first wife (who is dead). Once she arrives, she's not so keen to leave immediately ... plus, only Mr. Condomine can see her." The play intertwines the physical and spiritual worlds to hilarious ends.
Baker says she came to direct the show as part of the theater's preseason process earlier this year.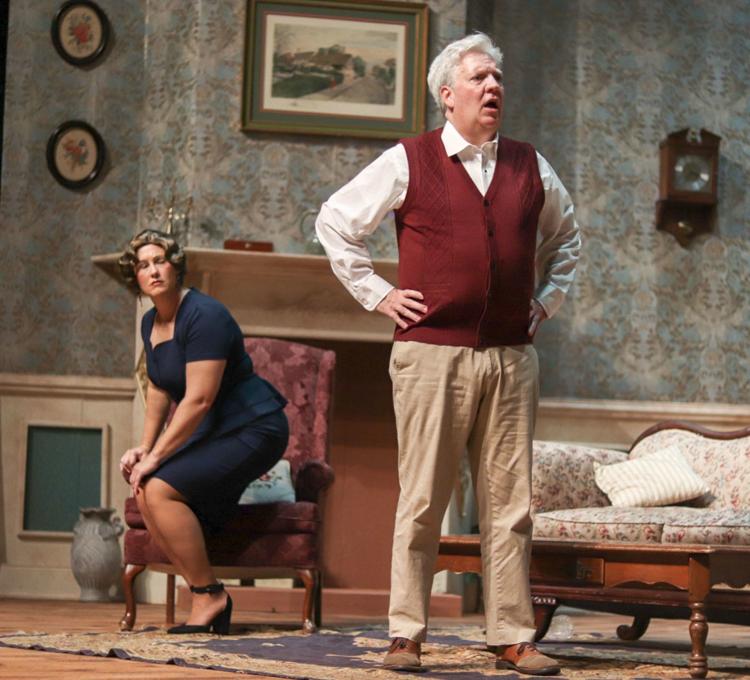 "Once the season shows are picked, individuals are asked to submit their interest in directing a show or any number of the shows," she said. "The season planning committee gathers and, based off of the individual's interest, they create a slate of directors that the full FLT Board has final approval over."
But what does it feel like to make the transition from actor and dancer to director?
"It's almost hard to describe. ...You can prepare, but until you really start the process of bringing a show to life, it's hard to really know how you feel about it," she said. "It's made me challenge my way of thinking about shows and really respect to a greater degree the other directors that came before me."
Baker noted that her personal approach to working on the show has had to change immensely.
"As an actor, you are used to focusing all of your effort on your character," she said. "But as a director, you are responsible for the cohesive unit. That's a different kind of pressure — and sometimes that pressure can feel overwhelming! I pride myself on working to create a collaborative process — 'best idea wins' — so even though they look at me as the final decision-maker, I include everyone to help me make the best decision. I don't know who said it, but 'surround yourself with people smarter than you' has definitely driven who I asked to join my production team and who I asked to join my cast. I couldn't have done this without each and every one of them."
Baker has found the experience both rewarding and eye-opening.
"My favorite part has been seeing people turn my visions into reality," she said, adding that "the most difficult part is understanding that everyone has a different process to get to the same result. While I may have approached a character or process differently, I had to allow my actors the chance to work through their characters and my process in their own way and not micro-manage."
Audiences can expect "a delightful comedy with some zany characters" when "Blithe Spirit" returns to the Florence Little Theatre. The show runs Friday, Nov. 1, through Saturday, Nov. 9 (with no show on Monday). The curtain rises at 7:30 p.m. every night except Sunday, when the showtime is 3 p.m.
The show is recommended for audiences age 12 and up. To buy tickets, visit florencelittletheatre.org, call the box office at 843-662-3731 or visit the theater at 417 S. Dargan St. in downtown Florence.